If you're planning what to wear for skiing, there are a few key tips to help you make the most of your day on the slopes. The first and most important thing is layering. Layering is the best way to keep warm and dry on cold days.
Well-chosen layers will also allow you to adapt to changing weather conditions quickly. Most skiers and snowboarders adopt a three-layer approach when they work out what to wear for skiing. These are a base layer, mid layer, and shell or outer layer.
Each layer has its own important function, and the three work in tandem to keep you comfortable and dry all day long.
Base layers
Your base layer is the layer that is closest to your body. When you're skiing, your base layer will include long underwear as well as a long-sleeved top.
The base layers trap air close to the skin to keep you warm but also need to stay dry when you start to perspire. That's why it's important that your base layer is made from a lightweight material that can wick moisture away from your skin before it makes you cold and clammy. Synthetic materials or merino wool are usually the best choices.
Choose some thermal leggings and a top, as well as a good pair of ski socks that are at least knee-high and breathable.
In general, you won't need a ski-specific base layer. However, it's always important to avoid cotton base layers as these absorb moisture, becoming wet and heavy. Additionally, don't wear a sweatshirt or sweatpants. They're both too bulky to fit under your other layers and don't manage moisture well.
Mid layers
As the name implies, your mid layer is what you wear between your base layer and your outer or shell jacket when skiing or snowboarding. 
The function of a mid layer is to add extra insulation. Like your base layer, ensuring your mid layer is breathable, and moisture-wicking is very important. Again, anything made from cotton is not the best choice for a mid layer. 
In warmer conditions, or if you have a very heavily insulated jacket, you may choose to go without a mid layer. Always choose what feels most comfortable for you, and adjust your clothing to fit the conditions. 

Some ideas for mid layers include:
Fleeces - Fleece is the most common mid layer worn by skiers and snowboarders. They are soft, lightweight, breathable and have excellent insulation properties. Fleece also dries quickly if it gets wet.

Hoodies - A favourite of snowboarders and freeskiers, a hoodie is a fashion statement as much as it is a mid layer. However, as most hoodies are made from cotton, they lack breathability and can affect your insulation. Sports hoodies are made from performance fabrics, making them a great choice for the slopes.
Softshell jackets - Softshell jackets can be worn as an outer layer in mild conditions, providing protection from cold winds. They are also lightweight and flexible enough to act as a mid layer in more challenging weather.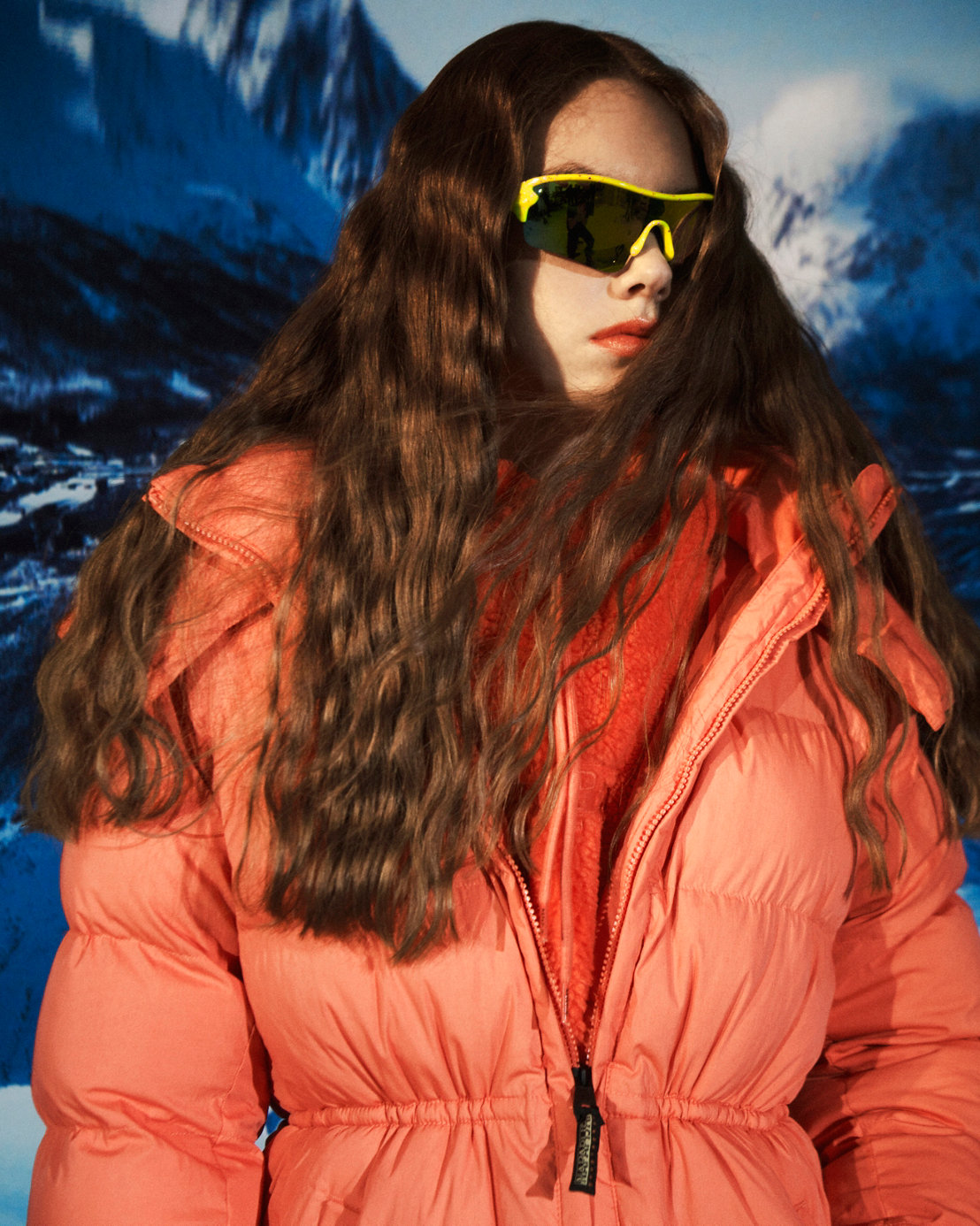 Outer Layers
One of the most important things to wear when skiing is a quality jacket. Down or synthetic insulation is used to trap air heat close to the body and maintain a comfortable temperature. Water-resistant fabrics prevent snow or rain from penetrating the lower layers and keep you dry.
Good quality ski jackets come with lots of useful features, including large pockets that can hold phones, ski goggles and more. Some Napapijri jackets such as the Zeroth ski jackets are made with recycled down-free Thermo-Fibre™ padding insulation, helping to reduce environmental impact without compromising on quality. Unique and functional, Zeroth jackets include a water-repellent zip fastening, multifunctional pockets, detachable inner gaiters and a Recco®technology reflector system to help tracking in case of avalanches.
The legendary Napapijri Skidoo jacket is designed to be wind-proof, water-resistant and extra warm. Since its debut in 1990, the Skidoo has been a popular choice to stay warm and dry in winter. While not designed specifically for skiing, the Skidoo is often seen on the slopes for light runs. It will keep you warm on the piste and look great for apres-ski but opt for the Zeroth jacket for prolonged exposure to wet snow.

Of course, no outer layer would be complete without ski pants. Especially as a beginner, when you might be falling in the snow often, it's important to wear pants that are water-resistant so that you're not soaked by the end of the day. Alternatively, you could pick a pair of bibs which come up higher on your chest. They also have shoulder straps, ensuring no snow finds its way into your clothing.
Extras
On top of your three layers, you might want to consider these extras when thinking about what to wear for skiing. The wind can get pretty cold, so a face mask, buff, balaclava, neck gaiter, or scarf can help keep the cold at bay. Snow goggles or sports sunglasses are also a good idea to fight the glare. You may also want to pack an extra pair of gloves or mittens, as these tend to get damp most quickly.
If you're planning time on the slopes, it's never too early to start planning your clothing and equipment. Consider the key factors - breathability, insulation and water resistance - then experiment with what works for you. And, of course, add your own touch of style.