The current fashion system is built mainly around the idea of fast fashion. Trends evolve at a break-neck pace, and clothes are not made to last. For that reason, the fashion industry is one of the main contributors to the climate emergency.
What is circular fashion?
First things first, what does circular fashion mean? This idea is a subset of the ​​circular economy concept. 
In the simplest terms, a circular system minimises waste, uses renewable energy sources, and hopes to eliminate toxic chemicals. It gains materials in a way least harmful to the environment and aims to use them for as long as possible. In this system, even waste is viewed as a resource.

How does circular fashion work?
First, we need to explain the traditional economy to understand how circular, sustainable fashion works. The supply chain in this module is linear. Raw materials are extracted, made into fashion products, and disregarded at the end of their life cycle.
A more sustainable way for this economy to work is by implementing recycling. Here, the brands will take advantage of recycled materials as well as raw materials, aiming to reduce their waste. However, the most sustainable way to operate is in a circular module.

Here, the goal is to keep materials in use for as long as possible. So once a piece of clothing is made, we want to ensure it's good quality that will last for a long time. Then, once it breaks or wears off, there should be a way to repair it and extend its life.

Once it becomes completely unusable, there should be a way to break it down into raw materials. Then, it will be remade into a new product without having to use any new materials. So it gets a new life and never goes to waste. Or if it cannot be used again, at least the materials will be returned safely to the biosphere.
On top of this, circular fashion considers pollution and waste in every stage of the process. It aims to cut these out by using renewable energy and recycling throughout.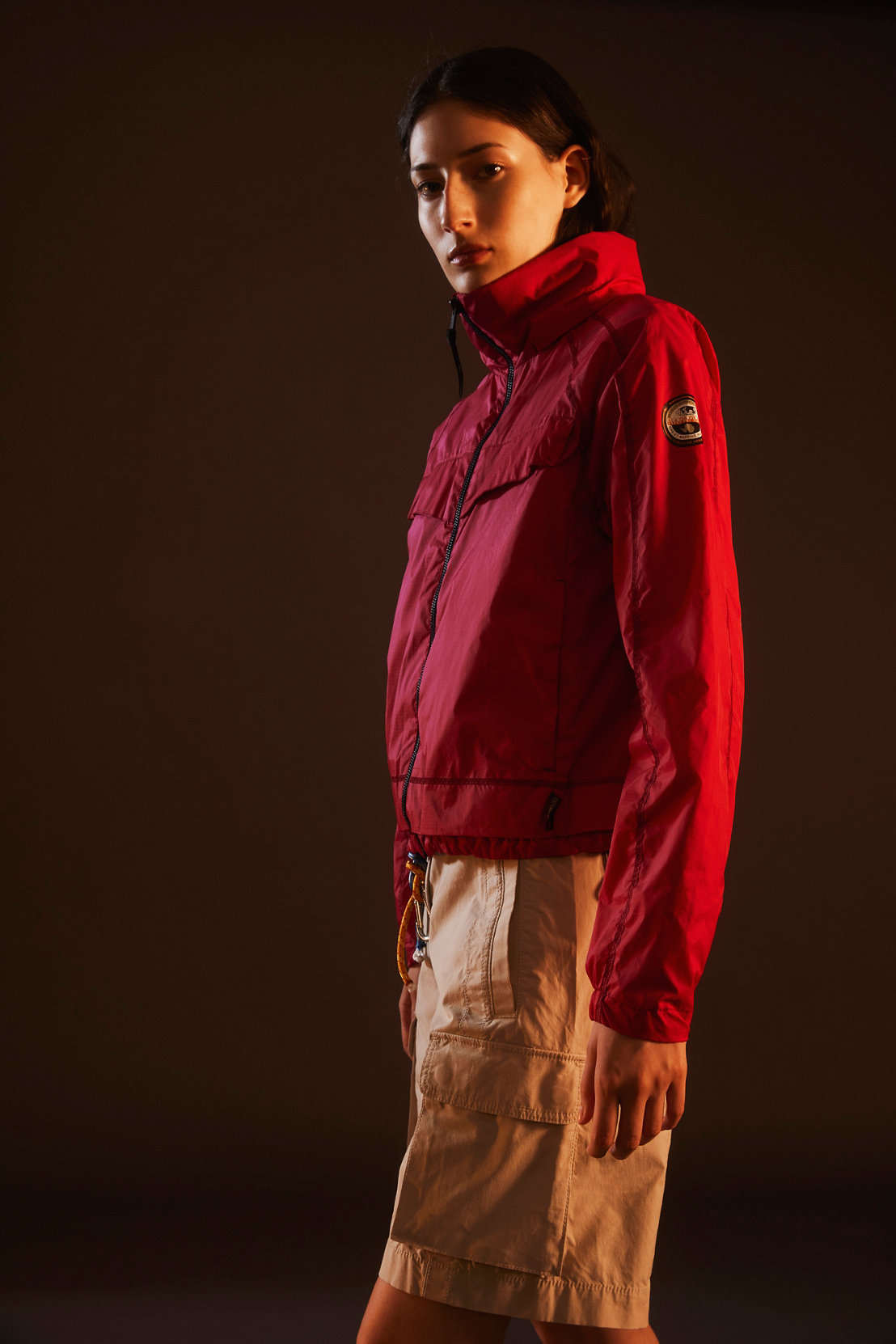 Circular fashion in Napapijri
The concept of circular fashion might sound a bit complex in theory. Let's look at an item from our Circular Series to better understand it. 
Here's the life cycle of the Circular Packable Jacket, starting with the production process:

The jacket is made from ECONYL® Regenerated Nylon. It's a recycled material constructed from discarded fishing nets and other waste.

The material is durable and long-lasting, meaning it can be worn for many years.

The entire jacket is built from that one material (or one polymer, to be more precise) - lining, zippers, filler and all. Usually, jackets have multiple materials, which makes them much harder to recycle, but not in this case.

The jacket is Cradle to Cradle Certified® Gold. It's the industry benchmark for items created safely, circularly, and ethically. 

All of our products from the Circular Series are made using the above details. 
But the work doesn't stop there. We want to ensure that the item stays in use for as long as possible. Here are the steps we take to ensure that:

When a customer buys the jacket, they are encouraged to register online.

After two years of owning the product, they can return it. It doesn't have to be just two years, though. That is the minimum, but not the maximum. 

When they return it, they receive a 20% discount to buy something else from the Circular Series to ensure that we keep the supply chain going in a loop.

When we get the jacket back, we send it to our partner company for deconstruction, which is done in an environmentally safe manner, such as being entirely recycled into new yarn.

We then construct a new piece of clothing, ready to go back into circulation.
What can you do as a consumer?
As a consumer, you can contribute to sustainability in fashion by simply wearing your clothes for longer and reducing your consumption wherever possible. When you do buy clothes, try to buy from a company that is trying little by little to play its part, like us. Make sure to invest in high-quality products which have durability, to limit further purchases. You can start today by checking out our Circular Series.