Napapijri's Skidoo is what happens when you take an Italian-born brand with a love for Alpine living, incorporate all that's best about Nordic winter clothing, and create a jacket fit for real pioneers. Skidoo couldn't possibly be mistaken for any other jacket: it's got quality and styling in every stitch, and a distinctively bold branding. Let's have a closer look at the Skidoo to answer the questions raised most often about this icon of winter style.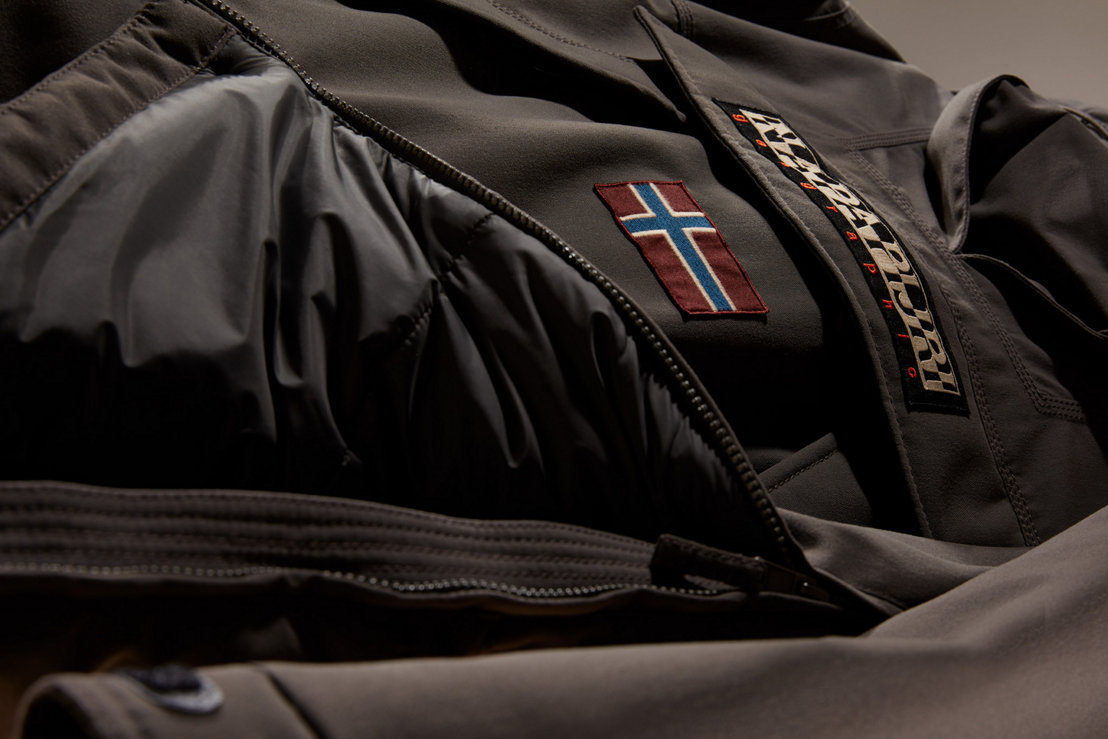 What different styles of Skidoo are available?

Over time, "Skidoo" has been interpreted in many different styles that are now an integral part of each Napapijri collection: fully waterproof pullover half-zip anoraks, full-zip parkas and fashion coats, all hooded and packed with high-performance, down-free insulation to keep the the cold winter air away.
The design philosophy that informed the first Skidoo jacket in 1990 still influences all of these jackets, whatever form they take. While we are somewhat far from the polar explorers who inspired them, everyone does want to stay warm and dry in winter, in nature as well as in the city. That's why every Skidoo is designed to be windproof, water-resistant and extra-warm.
From casual to performance jackets
If you're choosing a Skidoo as a piece of winter fashion, you'll probably go for an eco-fur-trimmed parka. Naturally, they're designed with a generous amount of insulation to be cosy and warm. But with breathable fabric, high performance water shedding and wind resistance, you can go from commute to office or queue to nightclub without having to wear too many layers or worry about sweat.
At the high performance end of the range, the Open Long jacket take things up a notch. These jackets will keep your spirits up whatever the weather throws at you. For wet conditions, the standard Skidoo will withstand up to 10,000 mm H₂O, which means anything up to a heavy shower or persistent drizzle won't be a problem.
Zip fronts and pullover anoraks

The second key differentiator is the way you put on and fasten up your Skidoo. There are two designs: the pullover anorak, and the front-zip parka. Since both have excellent heat retention properties, the choice is down to style and wearability options.
The pullover anorak has a large front pouch, which a lot of outdoor types appreciate as it's perfect for storing maps, electronic gear, gadgets and food with easy access at all times. Not that Skidoo parkas are lacking in the pocket department, of course. We recognise the importance of having plenty of space to store outdoor essentials in safety and dryness, so we always include plenty of large pockets with zips and flaps.
For women, men and children

The Skidoo can be worn and loved by anyone, with extensive collections aimed at women, men and children, although most of the adult designs differ only in size ranges. The children's Skidoos are perfect for holidaying in a cold climate, and come in fun bright colours, which both look active and give a level of visibility that's essential when you're out and about.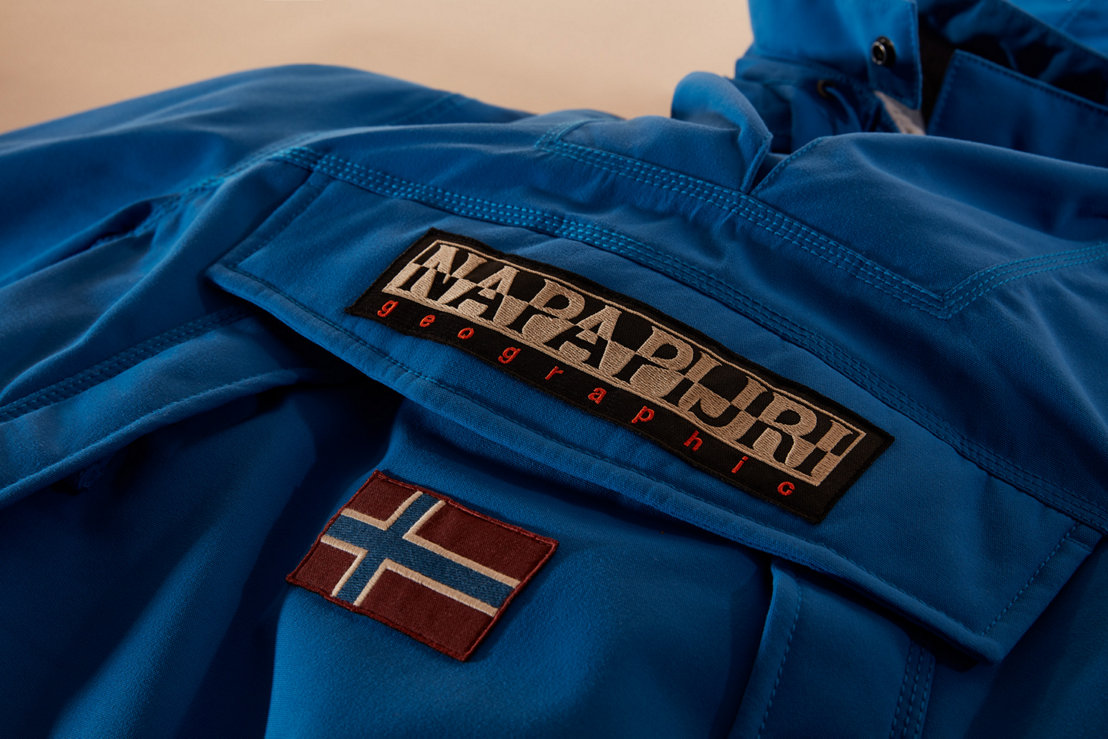 What is the Skidoo jacket made of?
Skidoo jackets are made of Cordura® fabric or a laminate performance-woven fabric. Durability is essential to reliable waterproofing and warmth, especially with outdoor clothing that's prone to scuffing and rubbing against hard surfaces. Being 100% synthetic means the Skidoo is cruelty-free, as well as light and easy to dry.
Cordura® fabrics have an array of specialist properties and applications such as excellent breathability and toughness in the harshest of conditions. Because of this rugged quality, your Skidoo will look newer for longer and keep you protected against the elements when you need it the most.
The insulation used in Skidoo jackets is completely animal-free after we made an ethical decision to cease using down from birds in 2015. However, we made sure that this was not a compromise in quality. We developed Thermo-Fibre™, a padding made from ultra-lightweight microspheres which create a soft, quilted texture, guaranteeing exceptional temperature regulation and insulation.
Is the Skidoo jacket waterproof?

All Skidoo jackets offer protection from the elements, but to different degrees. While some are effective against light showers, others are designed for higher performance, resisting water at 10,000 mm H₂O. It's best to check individual specifications for details.
For a fabric to be waterproof and breathable, it needs to be slightly hydrophilic (water-loving) and hydrophobic (water-resisting) - luckily, all of our jackets are PFC free too. The last thing you need is for the fabric to be completely impervious. It might keep you dry from the rain, but your own sweat will soon build up inside, making you damp and uncomfortable.

That's why there are ratings for how much water pressure a fabric will resist. It's a balance between being completely watertight and being breathable. Advanced fabrics cope with this balance better, keeping more rain and snow out, while removing perspiration.

You should choose a jacket based on how exposed to water you think you'll be.
0–5000 mm H₂O: light drizzle, dry snow

6000–10,000 mm H₂O: light rain, average snow

11,000–15,000 mm H₂O: average rain, average snow
You'll find the water resistance of any Skidoo jacket in its product description.
Are there Skidoo jackets suitable for skiing?
Although the Skidoo jacket was not designed for skiing, some choose to wear it on the slopes. It is certainly warm and has plenty of pockets, but the waterproofing in the lighter designs won't protect against prolonged exposure to wet snow. Always check the H₂O rating before you buy.
Skiers who just want a coat that will keep them warm on the piste and still look fantastic at après-ski often choose Skidoo. With added features such as multiple pockets, breathability and toughness, it's easy to see why it's a popular choice. For extreme conditions, however, make sure you have a jacket that will cope. Water resistance is always balanced with weight, breathability and cost, so please check the whole range in view of your intended use.
How to look after the Skidoo jackets
From the iconic Skidoo anorak to the Skidoo open, washing and care instructions are more or less the same for all Skidoo jackets. Basically, wash and dry it at low temperature and avoid dry cleaning. Cordura fabric is easy to damp down to remove the occasional spot.
The Skidoo is a hard-wearing garment, so it doesn't need much care. We recommend that you follow the instructions that come with your coat in case there are any specific pieces of advice about washing inside out or detaching hoods, for example. The general washing rules, however, are as follows:

Do not dry clean

Machine wash cold and tumble dry low

Do not bleach

Cool iron

Wash and dry separately

Secure all closures before washing
An undisputed classic
The Skidoo is a great all-round jacket whether you're out in the open or trekking the city streets. And since it's available in a range of styles, for all ages, it is a must-have for all those looking for a good quality jacket that keeps the weather away and the warmth close by.