Anoraks are an ideal outer layer when the weather starts to get wetter and colder. With a functional and enduring style, an anorak is an essential part of any men's or women's outdoor wardrobe. This Napapijri guide takes a deep dive into the anoraks, providing all the information you need to find the perfect one for you.
What is an anorak?
An anorak is a hooded pullover jacket. Taking inspiration from indigenous Arctic peoples, Napapijri anoraks are designed to keep you warm and dry. Often featuring a quarter or half-length zip at the neck, an anorak is pulled on over the head rather than a full front opening.
The benefit of an anorak is the lack of a full-length opening, providing less chance of rain entering and heat escaping. Ideal for wet weather, Napapijri anoraks have adjustable hoods and are made from water-resistant materials.
Since 1995, the Napapijri Rainforest Jacket has been our most enduring icon. With the distinctive kangaroo pocket and fixed hood, it's a streetwear classic. The Rainforest Winter Anorak Jacket features recycled, down-free padding for maximum insulation, elasticated trims, critically taped seams and the signature Norwegian flag patch on the front pocket.
Are anorak jackets warm?
Napapijri anoraks can keep you warm through a combination of insulation and windbreaking. Insulating materials trap air close to your body, slowing down heat loss in cold weather. Windproof fabrics prevent the flow of air past your skin, reducing the effects of wind chill. The solid front panel of an anorak offers greater protection than a full zip.
The level of insulation will depend on the type of anorak you choose. Lightweight, single-layer anoraks provide less warmth than heavier jackets with insulating padding. Consider the balance between weight and warmth based on your specific needs.
In mild conditions, Napapijri anoraks work well as an outer layer when it starts to rain or the temperature drops. In colder climates, additional clothing layers, such as a mid-fleece, may be needed under the anorak to maintain a comfortable body temperature.
The Napapijri Skidoo Anorak Jacket is Napapijri's first jacket and embodies our design philosophy. Built with adjustable cuffs, hem and waist and featuring advanced hood regulation and recycled, down-free ThermoFibre™ insulation, this is a winter classic that won't let you down.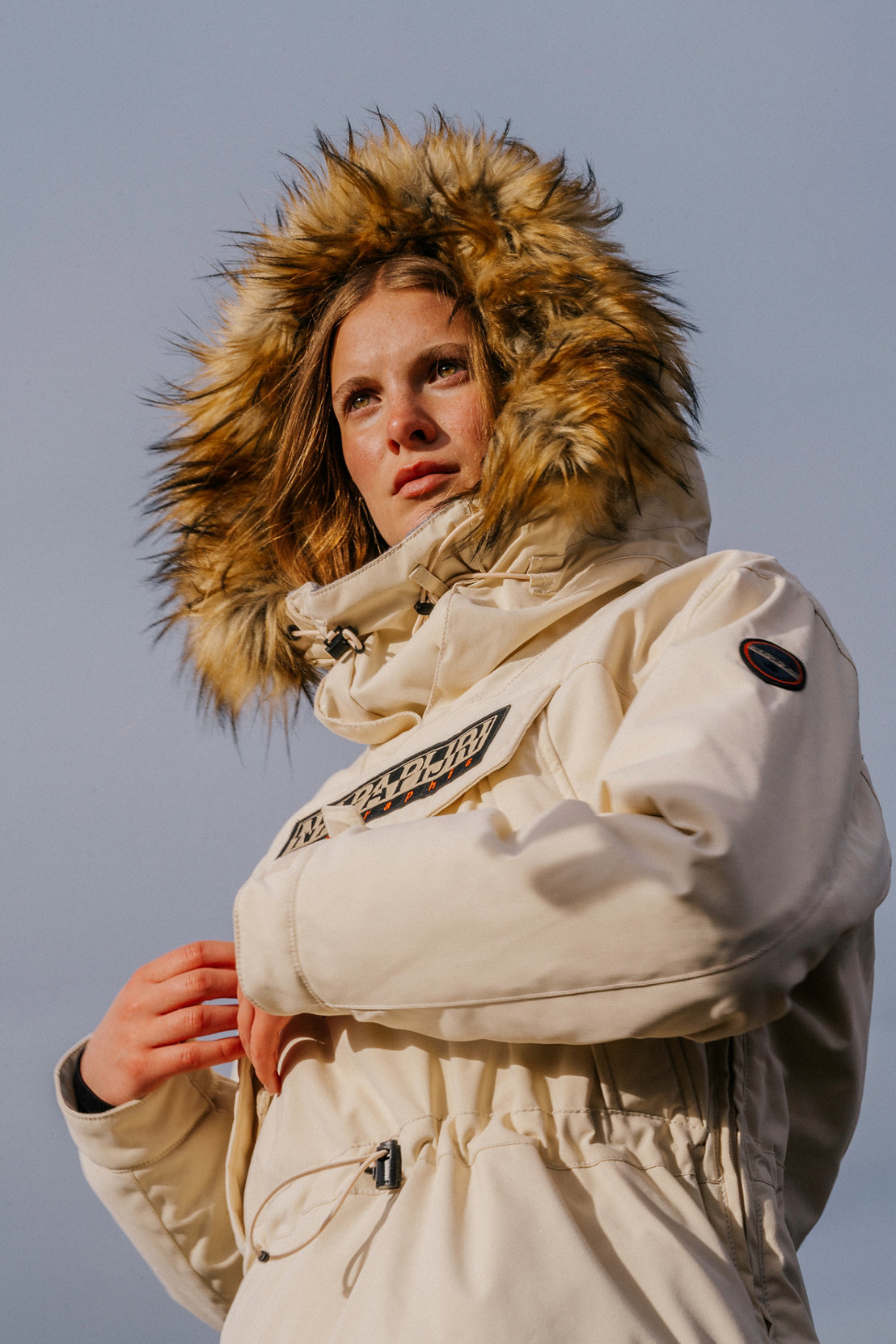 Are anorak jackets waterproof?
Napapijri anoraks are made from water-resistant materials. Taking inspiration from pullovers, and animal-skin raincoats, modern anoraks are designed to handle wet weather. The level of protection depends on the fabric. Lightweight, breathable materials are suitable for showers, with tightly woven shells providing a barrier to heavier rain.
Understanding waterproof materials can be tricky. Fully waterproof material will lack breathability and can make you hot and sweaty, so you will need a balance between moisture resistance and ventilation. The absence of a full zip on an anorak is beneficial in providing fewer openings for water to enter. All of our Anoraks are PFC-Free and have a durable water repellent finish free of fluorocarbon resins.
The Napapijri Northfarer adds a fresh twist to a classic design with a streamlined shape, double-zip neckline and weatherproof visor. The iconic Napapijri Northfarer Anorak Jacket is crafted from water-resistant CORDURA® fabric for premium endurance and durability.
How to wear an anorak jacket
Napapijri anoraks should be worn as an outer layer on top of your other clothing. In mild conditions, wear a t-shirt or long-sleeved base layer under your anorak. In colder conditions, consider adding an insulating mid-layer, such as fleece. Anoraks are usually hip-length and can be combined with shorts or any kind of trousers.
When you've decided on the features that your anorak needs, then consider style. The solid front panel offers creative options for brand logos or prints. Choose a colour or pattern based on your preferences.
Napapijri anoraks are versatile jackets that are a fundamental part of the Napapijri range. Check out our selection of winter jackets for men, women and kids. Use our size guide to help you choose the right Napapijri anorak for you.