Cargo pants, also known as utility or combat trousers, are a versatile wardrobe essential. Featuring functional pockets, made of durable materials, and with a design inspired by military gear, they work well in a range of combinations. Cargo pants pair well with a variety of tops, including t-shirts, polo shirts, and hoodies.
In this article, we'll take a deep dive into styling options for cargo pants and provide you with tips and ideas on how to style cargo pants, along with some trusted recommendations from the Napapijri range. With this inspiration, you can create a fresh and unique look with cargo pants as the centrepiece. 
How to Wear Cargo Pants
While the versatility of cargo pants means you can unleash your creativity when deciding how to style them.  These basic tips should come in handy anytime they make an appearance in your look!
Pair them with other utility items
For a cohesive look, combine your cargo pants with similar clothing items, such as a utility vest or jacket, creating an integrated aesthetic. 
Use the pockets
Cargo pants feature multiple pockets that you can use to store your essentials. Plan ahead to maximise this potential. 
Add contrast
Pair your cargo pants with contrasting styles for a unique, distinctive look. Alternatively, layering with a chunky sweater or oversized hoodie creates a casual, comfortable look. 
Cargo pants are a great addition to any wardrobe and can be styled in endless ways to keep your look fresh and up-to-date. Don't be afraid to experiment with different combinations and make the look your own.
What to Wear with Cargo Pants
Choose what to wear with your cargo pants based on the occasion and personal style. Explore our checklist to decide what top to wear with cargo pants. Don't be afraid to try a few options to find what works for you.
A classic option to pair with cargo pants. Choose a neutral colour like black, white, or grey for a minimalist look. Alternatively, go for a bold-coloured t-shirt to add some personality.
Pair your cargo pants with a dress shirt or polo shirt for a smarter feel. Slim-fitting shirts create a modern look, while relaxed fits offer a casual vibe.
Sweater or hoodie
Ideal for colder weather, you can wear combat pants with a comfortable sweater or hoodie for a classic urban explorer look.
Anorak
The Napapijri anoraks are iconic for a reason. Our Skidoo, Rainforest, and Northfarer jackets combine effectively with cargo pants for a dynamic look that is equally at home in nature or on the city streets.
Denim Jacket
A classic denim jacket is a versatile option that creates a rugged and stylish look when paired with cargo pants.
Bomber Jacket
Pair your cargo pants with a bomber jacket for a modern, edgy look. Choose a jacket with a slim-fit design and minimal details to keep the focus on the pants.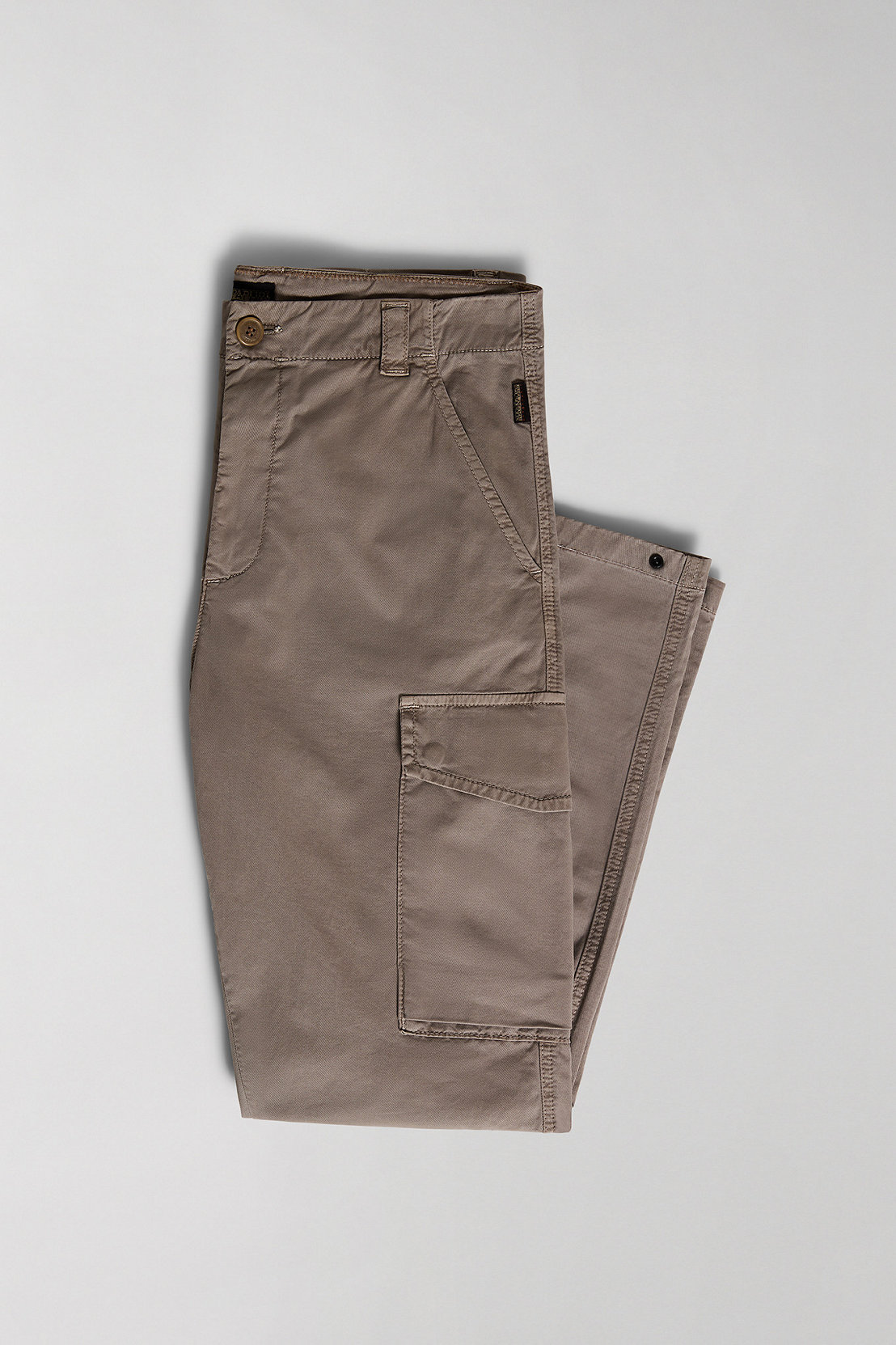 How to Style Cargo Pants
The options for styling cargo pants are endless, allowing you to get creative and express your own sense of style. Here are our tips for how to style cargo pants :
Tuck in
Tucking in your shirt quickly elevates your outfit and creates a clean, polished look. A simple, monochrome shirt tucked into your cargo pants creates a subtle, distinctive look.
Layer
Adding layers to the upper body works well with the utilitarian vibe of cargo pants. Combine a fleece, gilet and jacket for a multi-textured feel.
Colour
Choose a classic khaki for a timeless look or black for a fresh, sharper vibe.
Accessorise
Accessories can add personality and style to your outfit. A statement belt or watch can complement your cargo pants and bring the whole look together.
Cuffs
Rolling up the cuffs of your cargo pants can transform your look and show off your shoes. Inspired by classic skate style, this technique works well with low-top sneakers.
Footwear
Choose shoes that complement the style and occasion of your outfit. Fresh trainers or chunky boots are the most popular choice for cargo pants.
Express Yourself
Cargo pants are a versatile wardrobe staple and an ideal starting point for building your look. As well as style, choose pants that are comfortable and durable.
At Napapijri, we have a long history of crossing boundaries and making connections with a focus on research, fashion and innovation, with a focus on sustainability, including circularity and traceability, throughout our supply chain.
We believe the future of fashion lies in partnership and collaboration. Napapijri takes inspiration from the golden age of exploration, combined with relentless innovation and the development of new technologies. Our range of men's and women's cargo pants fuse everyday functionality with contemporary style. With premium construction and a sustainable approach, you'll find what you need.