Lightweight, durable and packed with useful features: discover all the reasons a great windbreaker is the ideal summer travel companion.
Headed off on a summer adventure? A reliable windbreaker is a must-have. Lightweight, portable, water-resistant and highly versatile, a great windbreaker will see you through summer and into the seasons that follow.
Here, we're breaking down everything you need to know when it comes to windbreakers. From true summer windbreakers to modular designs and beyond. Plus, we'll also look at some of the additional features worth considering for your adventures and exploration.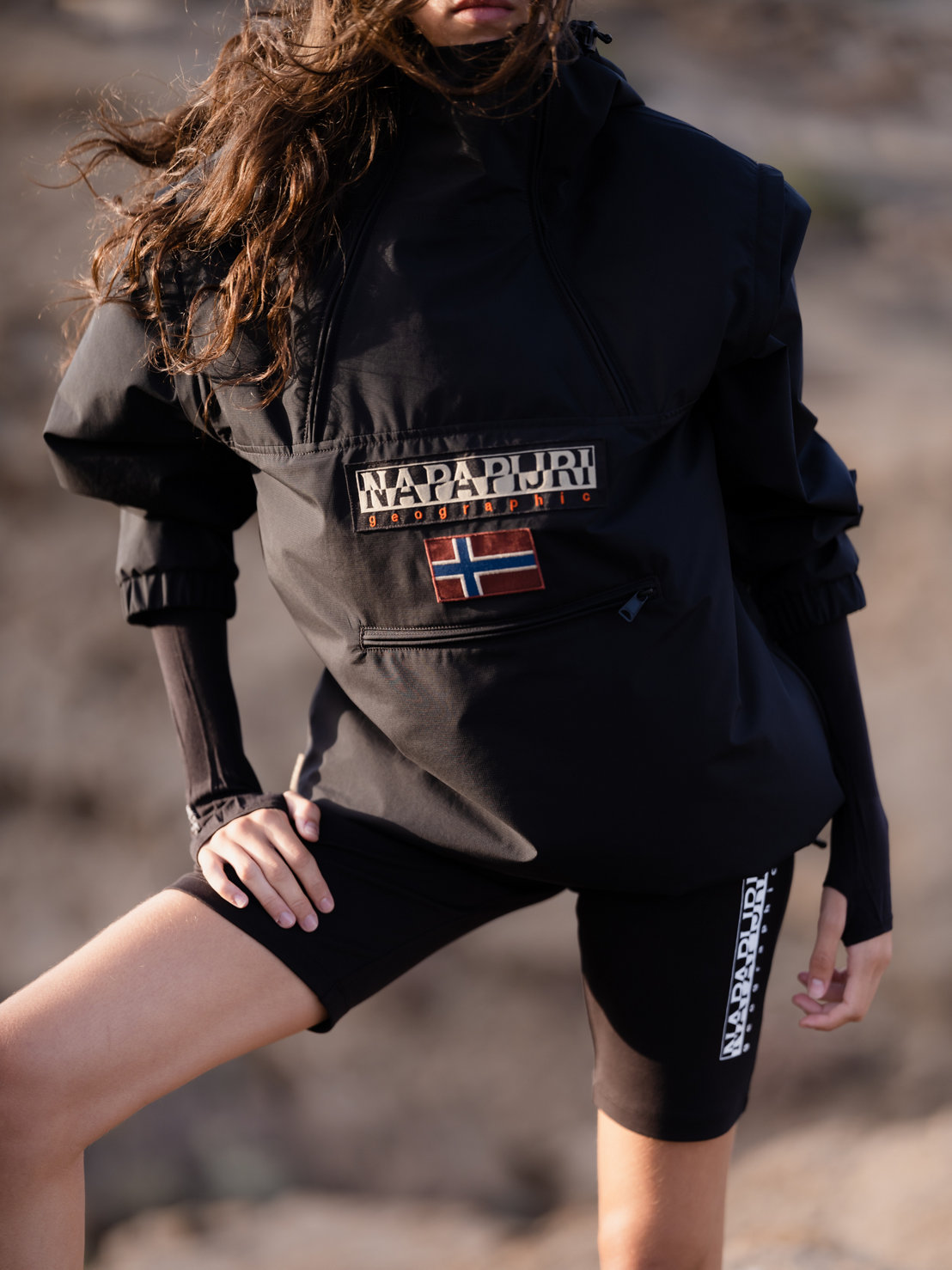 What is a windbreaker?
A windbreaker is a type of jacket that's light, breathable and designed to shield you from wind and light showers. Thanks to their lightweight design and portability windbreakers have become a popular option for anyone looking for a casual, functional jacket.
Better yet, Napapijri windbreakers come in a variety of styles, making them suitable for many different temperatures and climates. Practical, stylish and comfortable, our selection of men's, women's and kids windbreaker jackets is perfect for getting out there and exploring the outdoors in total freedom.
Summer jackets
Summer windbreaker jackets are designed to be lightweight and breathable, offering protection from the wind while still allowing for good ventilation to keep you cool. We have a variety of colours and prints so you can express yourself whilst still being protected from any weather.
Anoraks
Anoraks are windbreakers with a more robust construction, typically including a hood and large, roomy pockets for anything you might need to travel with. They are often made from highly water-resistant materials and provide excellent protection from wind and rain, like our iconic Rainforest Jacket. PFC-Free and durable water-repellent finish free of fluorocarbon resins this jacket is perfect for unpredictable weather.
Modular windbreakers
Modular windbreakers are one of the most versatile choices, with detachable or adjustable features such as hoods, liners or sleeves. This means you can alter them to suit the weather, making them a year-round wardrobe essential.
Commuter windbreakers
Commuter windbreakers are designed with the urban traveller in mind. They're usually made of durable materials and feature streamlined designs to make them easy to pack, wear and carry. Special features may include things like venting systems for improved breathability during brisk city walks or bike rides.
Short and long jackets
Short and long jackets provide different levels of coverage according to your needs. Short jackets are great for mobility, versatility and casual settings, while long windbreakers offer more protection against the elements.
Next, we'll have a look at some of the features that unite all great windbreakers. So whether you're investing in a light summer windbreaker or all-season anorak, you can be sure you're getting all the functionality and versatility you need from Napapijri.
Portability: The ultimate go-anywhere jacket
The perfect travel companion should always be easy to pack and carry, and windbreakers excel in this aspect. They're typically made from lightweight materials such as polyamide, meaning they can also be easily folded down to a very small size. This means they take up minimal space in your luggage or backpack, leaving more room for other essentials.
Our Circular Packable Jacket even folds down into its own inner pocket for maximum space-saving. Plus, it's made from ECONYL® Regenerated Nylon, which comes from discarded fishing nets and other waste products. So, you can enjoy the summer outdoors knowing your Napapijri windbreaker is a sustainable choice.
Durability: Designed to last
Quality windbreakers are all about rugged styling and lasting protection against the elements. Designed to withstand wind, light rain and UV rays, a great windbreaker will see you through far more than just a single season.
Are windbreakers water-resistant?
Yes, many of the Napapijri windbreakers are typically water-resistant, helping you stay dry during light showers or drizzles. Quality windbreakers also feature taped seams, providing extra protection against water seepage. This is especially useful when travelling in unpredictable weather. Plus, UV resistance means these handy jackets protect your skin and are unlikely to fade or crack, making them super-long lasting.
Style: Summery design
While functionality is paramount, style isn't compromised either when it comes to a great summer windbreaker. Our windbreakers come in a host of different lengths, fabrics and even versatile modular designs. Drawstrings can help create a cinched waist. Meanwhile, pouches or zipped and studded pockets add both interest and functionality.
Windbreaker colours range from classic neutrals like black, navy and beige to unexpected, bright hues. So you can stay true to your style while embracing the fun of the summer season.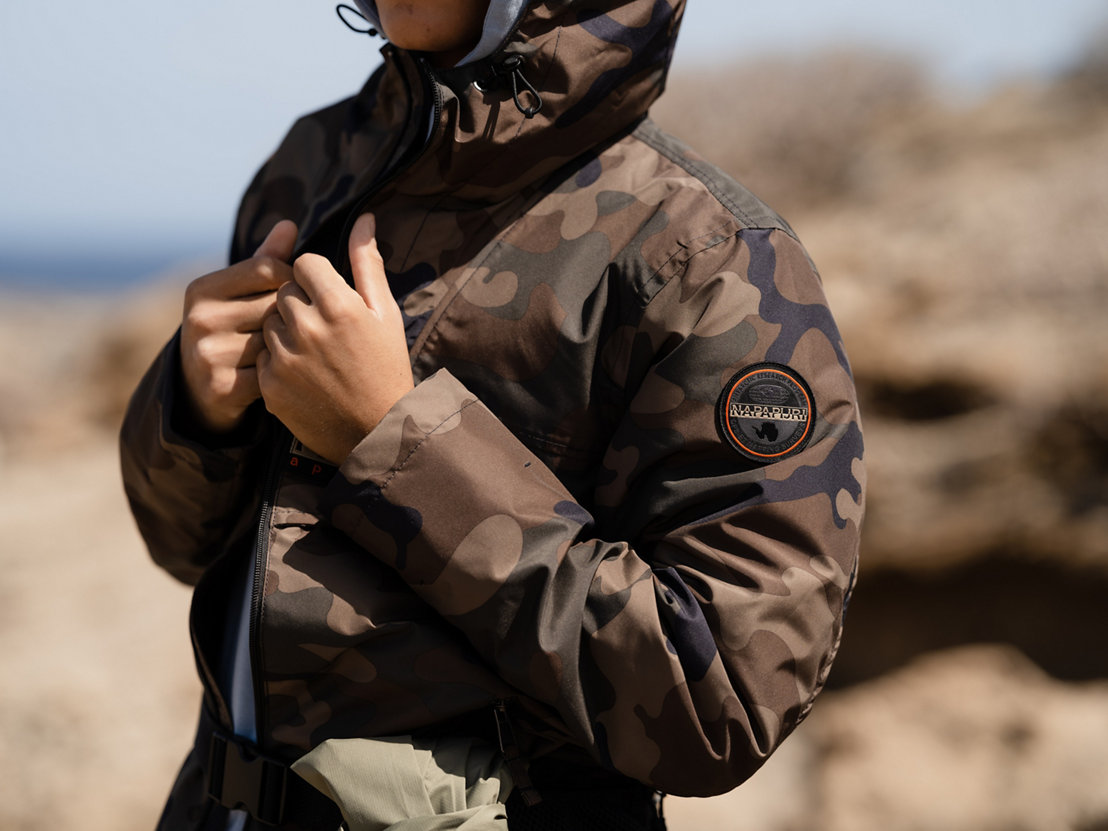 The ultimate in design: Extra features
If you're looking for a new windbreaker, there are a few key features to keep an eye out for before you purchase. These add another dimension of functionality. Making your windbreaker an all-season, go-anywhere essential.
Mesh lining
Looking for a windbreaker that's perfect for summer and beyond? Grab one with a mesh lining. This moisture-wicking layer draws perspiration away from the body while letting in airflow and allowing you to move freely without restraint.
This is a particularly useful feature on hot and humid summer days when sweat might otherwise accumulate inside the jacket. In short, it's the answer to keeping cool and dry no matter where your travels take you.
Taped seams
Windbreakers are usually made from water-resistant fabric, but water can still creep in if they're not properly sealed. Taped seams mean the garment's seams or joins are reinforced with thin, waterproof tape. This prevents any water from seeping through the stitching.
Taped seams also help a jacket stay windproof as well as water-resistant. So you don't have to worry about an unexpected shower when you're enjoying the outdoors.
Adjustable hems and hood
These adjustable features allow you to customise your windbreaker to your taste, as well as the weather.
Adjustable hems create a snug fit around your waist and stop any cold drafts from entering. An adjustable hood provides cosy, drizzle-beating protection for your head and neck. So whether you want a looser fit in warmer weather or a tighter fit for rain and chills, your windbreaker can adapt instantly.
A jacket for every summer adventure
If you're travelling this summer, a great windbreaker is a must-have. Lightweight design, easy packability and great weather protection make the ultimate go-anywhere jacket. So you can stay comfortable all summer, no matter the weather.
That's why the summer edits of our most popular windbreaker designs combine functionality with style. Like the Rainforest Open, which brings all the style of our icon, plus a full-zip to make it more easily wearable. Its cool prints and lighter fabrics allow you to stay dry outdoors while making a fashion statement.
Looking forward to getting out there? At Napapijri, we've got all the windbreakers, hoodies, t-shirts and shorts you need for an unforgettable summer of adventure.