The Rainforest jacket is our most iconic style, easily recognisable by the spacious front pouch, bold branding and devotion to quality materials. But it's the details and the differences that have made it the first choice for both outdoor types and stylish city dwellers. It's the perfect light jacket for protection from cold temperatures and strong winds, and comes in summer and winter versions designed to cope with their specific demands. Here's our guide to the Napapijri Rainforest jacket, answering some of your most common questions.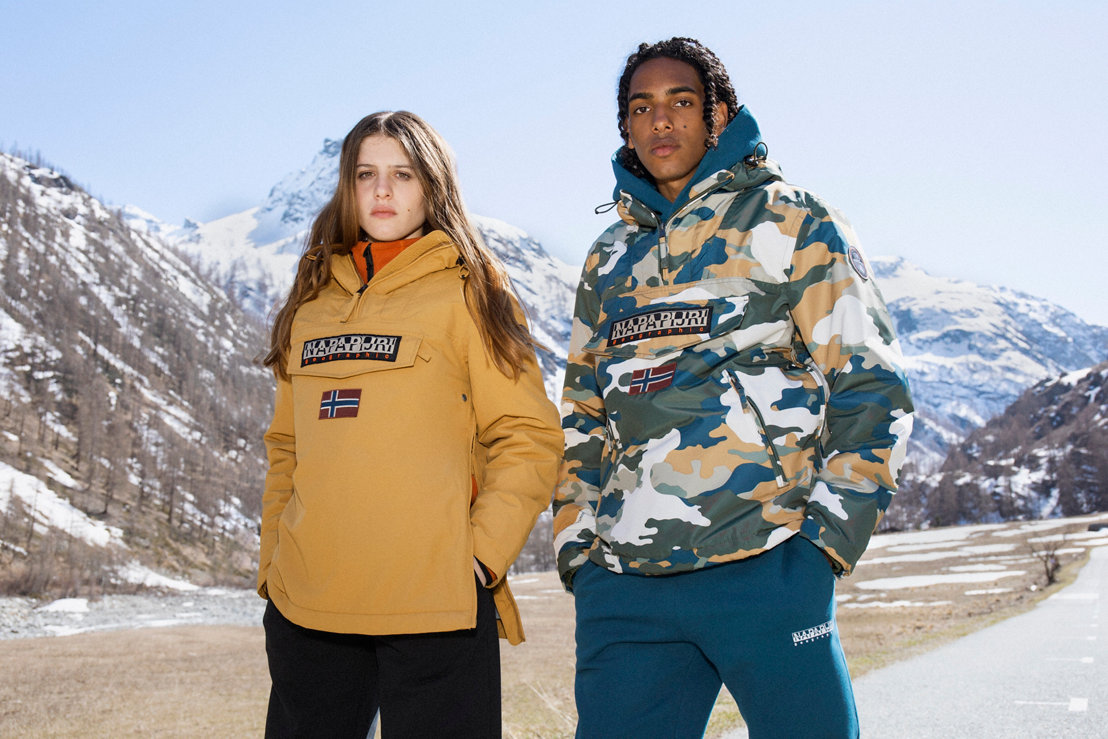 What different styles are available?

Napapijri Rainforest is just the name, it covers a large range of styles and colour options to suit everyone's tastes. They're all designed for warmth and breathability when you're active, but also for style and convenience, and are available in men's, women's and children's styles. The differences can be summarised by dividing them into features. When you're shopping for your Rainforest jacket, use the filters on the left of your monitor or the drop-down list on your phone to find the product you're looking for.
Age and sex

The Rainforest jacket is available for men, women and children. There are some subtle cosmetic differences between the men's and women's ranges, but structurally and materially they are largely identical. Children's jackets are sold by age (6–14), whereas adult jackets are sold by size: XS–3X for men, and XS–XXL for women.
Season

You'll notice that Rainforest jackets are often described as "summer" or "winter". The main difference is the thermal filling; both are showerproof, but neither is designed to withstand a heavy drenching. They do offer supreme wind protection thanks to the close knit fabric and zippable vents.

Summer jackets are perfect outdoor coats when it's dry but not too cold, or when you need a jacket to carry around with you and pull on when the temperature drops when you're out and about. They do have insulation enough to take you to the beginning of a typical winter, and can come out again when the following spring arrives.

Winter jackets are slightly heavier with more insulation, and can be worn right through the coldest weather. You might need to layer up underneath when it's particularly icy, but it'll often be warm enough with a normal T-shirt or fleece underneath. Winter jackets are generally waterproof to light shower level (3000 mm H₂O). In very wet weather, we recommend a light waterproof outer layer, or perhaps consider a Skidoo jacket instead.
All seasonal jackets come with mesh lining and ventilation eyelets so you can control your airflow, but they're also breathable so you don't need to worry about sweat building up.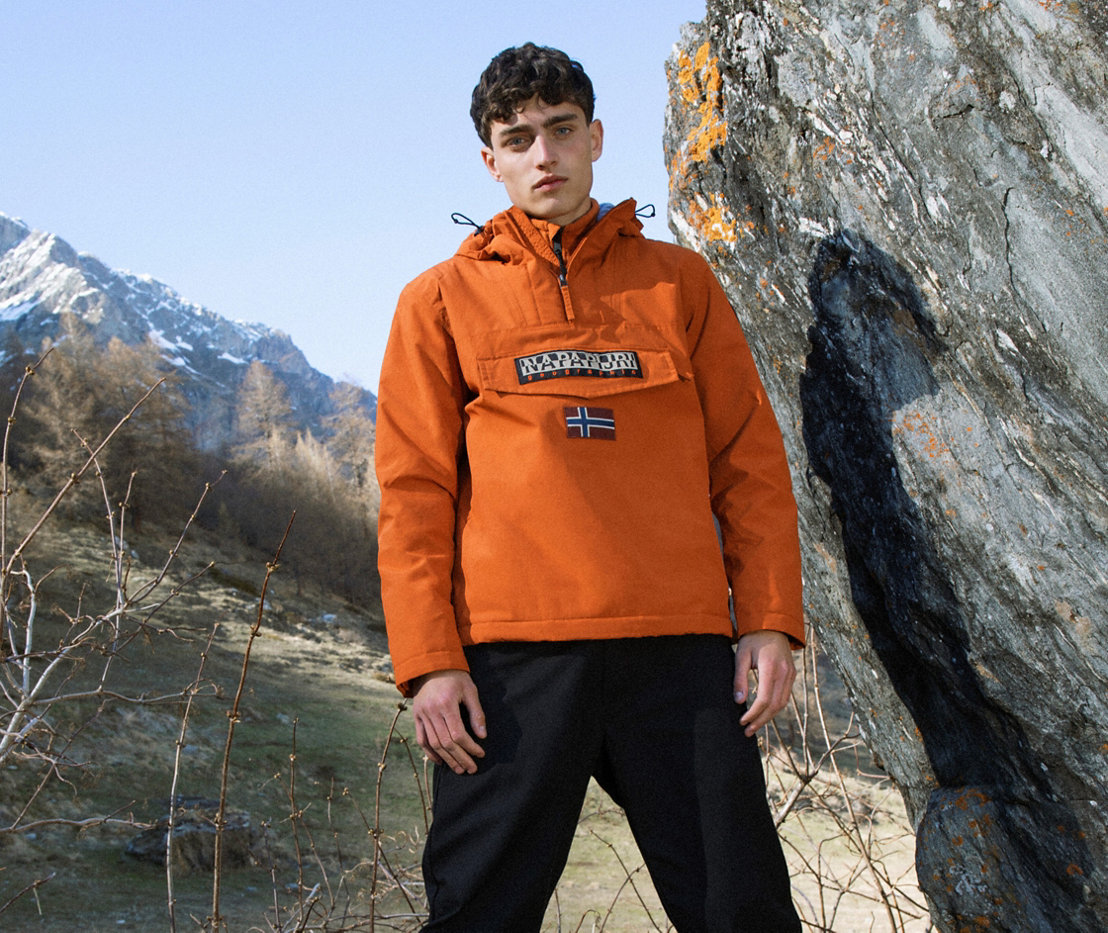 Colour
It's your Rainforest, so choose your look. We make the iconic jacket in a wide range of colours, from highly visible yellows and oranges – ideal for snowy safety – to more subdued urban tones. There are also some patterned choices, for example camouflage, which are always popular.

Our jackets all come with tonal stitching, meaning there's no contrast between the colour of the fabric and the thread, which gives a smart, consistent look.
Front zip

The vast majority of Rainforest jackets are pullover types that have a small collar zip so it's easy to pull on and take off. The overlapped zip fastens the coat from mid-chest area to the chin, and there's usually an elasticated drawstring to pull the collar snugly against your neck, for maximum heat conservation, wind resistance and comfort. The only Rainforest jacket to feature a full-length zip fastener is the kids' version, which is designed to be put on and taken off with the minimum of fuss.
Length

The standard length of the Rainforest jacket is waist length. However, we also make a long Rainforest, which gives extra protection from the weather. It reaches the mid-thigh, and is available in men's and women's styles.
What is the Rainforest jacket made of?
The Napapijri Rainforest jacket is made from 100% polyamide, a man-made fabric with supreme performance when it comes to durability, warmth, water resistance, washability, colour take-up and finish. It's also able to be recycled, so once it's had its last adventure, a new jacket can be made from it.
Our winter jackets are filled with down-free Thermo-Fibre™ padding insulation, which is a completely man-made and highly effective way of maintaining body warmth, and contains no animal products. The main fabric is tightly woven plain ribbed fabric, which gives the material its strength and resistance against wind and water.
You can trace the journey of a Napapijri Rainforest Anorak on this map. It shows where we source our fabrics where, the jackets are put together and where we distribute them from. As you can see, it's a complicated supply chain, but it's all designed to ensure the highest quality and maximum customer satisfaction.
Is the Rainforest jacket waterproof?
Napapijri Rainforest jackets are designed to be warm and windproof, not necessarily waterproof. Although they will resist a shower, in sustained or heavy rain they will become wet and lose their breathability and insulation. A waterproof outer layer is therefore recommended if you are facing such conditions.
Technically, the waterproof performance of the Rainforest jacket is to withstand 3000 mm H₂O. That means a column of water 3000 mm deep could be borne by the fabric without it leaking through. In terms of everyday use, that means that it will withstand anything between dryness and a light shower, but nothing more substantial.
Is the Rainforest jacket good for skiing?
The Napapijri Rainforest jacket is designed around warmth and wind resistance rather than as protection from rain and snow, so it is not recommended as a skiing or snowboarding jacket. Napapijri's Skidoo is much more appropriate, with a far higher waterproof rating.
The Skidoo is the original explorer's jacket, designed for Arctic conditions. It will easily cope with blizzard and storm conditions, thanks to its 10,000 mm H₂O waterproof rating and breathability. Take a look at the range if you're heading off into the mountains.
How to look after the Rainforest Jacket
When you buy a new Napapijri Rainforest jacket, you'll also receive full cleaning and care instructions. Both winter and summer jackets can be machine washed at low temperature, and you can tumble dry it, also at low temperature. Dry cleaning is not recommended because of the fabrics used.
Full instructions on the jacket are as follows:

Machine wash cold

Do not bleach

Tumble dry low

Cool iron

Do not dry clean

Wash and dry separately

May fade

Secure all closures before washing
What's your favourite Rainforest?
Rainforest is where style meets insulation, and with two seasons to choose from, you'll always be comfy and warm thanks to the insulation and breathability. While it'll protect you against a shower, we'd recommend one of our high performance Skidoo jackets if you're heading somewhere that's cold and very wet, or if you're skiing or snowboarding. But fans of the Rainforest jacket love it for what it is – a toasty warm outer layer that looks fantastic.