The Bering Duffle Bag is more than just a holdall – it's a piece of Napapijri culture that's been in our range from 1987. In fact, it was our very first product – we didn't start making clothing until 1990. We named the bag after Vitus Bering, the Danish explorer and cartographer who lived between the 17th and 18th century, and after whom the Bering Strait between Russia and Alaska was named.

In just over thirty years the Bering Duffle Bag has reached the iconic status as a much-imitated item, so we thought we'd give you a guide to what makes it special and how to make the most of it.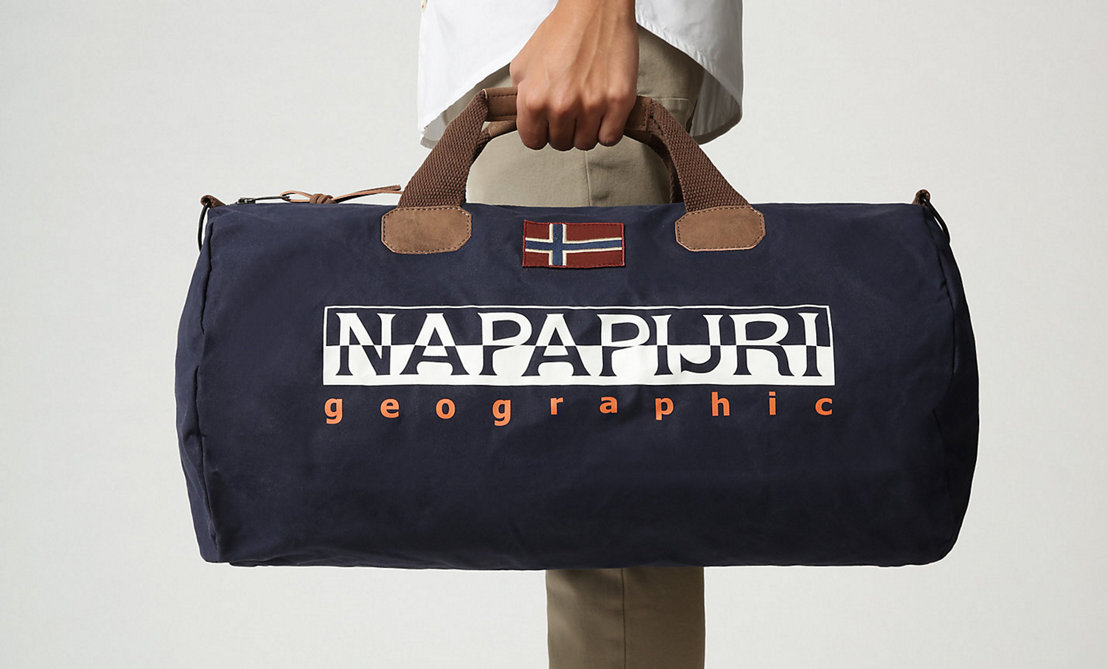 What size is a duffle bag?

Duffle bags come in a range of sizes. A small one is ideal for a trip to the gym; a medium would be fine for a change of clothes for an overnight stay, and a large one would carry enough for a casual weekend away.
Napapijri's Bering Duffle Bags come in 26.5L, 48L and 51L sizes-small, medium and large. As a measurement guide, the smallest (26.5L) is 41cm long for a diameter of 25cm. Please read carefully the full-size table below: it's best to think ahead before buying one as they work best when they're fuller.
| | | | |
| --- | --- | --- | --- |
| Size | Capacity | Length | Diameter |
| Small | 26.5 litre | 41 cm | 25 cm |
| Medium | 48 litre | 60 cm | 30 cm |
| Large | 51 litre | 65 cm | 35 cm |
What is a duffle bag used for?
A duffle bag is the perfect informal bag to carry clothes and other essentials. Its structure doesn't make it the best match for formal suits, shirts, or paperwork – it's best suited for gym clothes, casual gear, overnight clothing, and toiletries.
Some of our bags fold into their inside pocket, so it can be stored away easily, or put it in another bag for that shopping weekend in the city. It can be carried by the handle or slung over the shoulder with the detachable strap in case you need both hands free. If you're hiking or carrying other things, however, the better choice might be one of our backpacks.
What's the difference between a duffle bag and a holdall?
A duffle bag and a holdall are essentially the same thing: a cylindrical or rectangular bag with two handles and a zip running along its length. Some people consider a duffle bag to be one that you load from one end, with a drawstring instead of a zip.
At Napapijri, there's no doubt what a duffle bag is – it's the classic two-handle Bering used across our range since our founding in 1987. They're stylish, tough bags that are designed to be loaded, unloaded, picked up and thrown down thousands of times.
Are duffle bags good for travelling?
When heading off for the weekend, or minimalistic longer trips, a duffle bag will be perfect. For longer stays or when you're taking formal wear, a suitcase would be more appropriate.
A great feature of some of our newer duffle bags is that they are foldable into their own inside pocket, In this way, they take up hardly any wardrobe space. they're quite handy as extra-luggage to be carried around in your main one.
What are Bering duffle bags made of?
Napapijri's Bering Duffle Bags are made of waxed cotton, a fabric traditionally chosen by the military and explorers for its durability and strength. Napapijri's founder, Giuliana Rosset, thought she could turn this rough fabric into something special by combining its technical qualities with an eye-catching design and created the first Bering bag in 1987.
To this day, our Bering Bags are made with the same fabric, while their inserts - once in leather - are now completely animal-friendly. Along with the handles' cotton tape, this bag is entirely animal-free and vegan-friendly.

Unlike the Bering, some of our duffle bags are made of sturdy polyamide or ripstop nylon canvas, which is well known for its strength and resistance to tearing. You can find the exact material on the product description under each bag.
Are Bering Duffle Bags waterproof?
Bering Duffle Bags are described as water-resistant rather than waterproof. The rain from a light shower will run off the surface, but sustained or heavy rain will saturate the material and soak through eventually. For most everyday use, however, water-resistance is more than enough.
Technically speaking, the Bering Bag has a rating of 2000mm H₂O, which means it could hold a column of water 2000mm (2m) high without it leaking through.. If you're walking from building to building, or from the gym to the train, for example, and it starts to rain lightly, your contents will be fine. If you got caught in a heavy downpour for an extended amount of time, like most bags it would probably let some water in.
Bering: the only duffle bag you'll ever need
The Bering Duffle Bag is a great choice for anyone with an active lifestyle, be that heading off to the gym or going to meet friends at the weekend. Whether small, medium or large, they'll welcome all your essentials and they'll be ready to get out when you arrive. Have a look at our full range of Bering Duffle Bags.