Clothing isn't just about the fabric, the cut or the colour – it's all about how you wear it. The same jacket looks completely different when worn with jeans, leggings, cargo pants, trousers or a skirt, as they all affect the silhouette and the style you're aiming for. People often ask what the perfect fit for a Napapijri jacket is, and there are a thousand right answers. But if you know the look you're going for, here's how to find the perfect fit.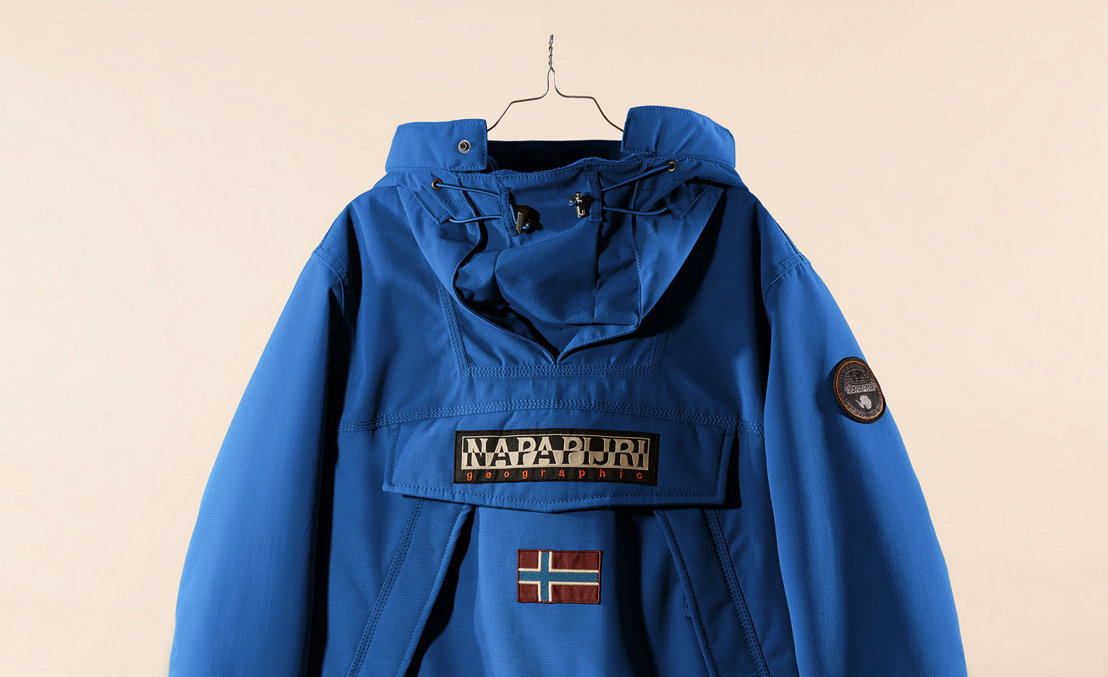 How do Napapijri jackets fit?

Napapijri jackets are meant to have quite a close fit – they are not designed to be worn loose like a cagoule. Pullover jackets necessarily have a little more give in them to ease them on and off, but zip-ups can fit very snug.

Perfect for wearing with only light layers like a T-shirt underneath, the Rainforest Anorak Jacket shows how a neat, crisp silhouette gives such a smart appearance overall. It's helped by the flat pockets and zip-up front that lets you wrap yourself into the jacket.

The Rainforest Summer Print, on the other hand, has a more generous fit. That's partly because it's a pullover – it needs to fit over the shoulders and be easy to get on and off. But it's also designed so that it's not baggy or loose – it's still a relatively close fit for such a jacket.
How do you put on a Napapijri jacket?
Put it on over your head like a hoodie, although most Napapijri anoraks also have a side zip, which can be loosened to help it on and off. The real trick is to pull on the hood as you are taking it off: that makes the process so much easier. 

 Parents often think the zip-up jacket is better for kids as it's easier to get on and off, as zip-up jackets are put on and removed just like any other front-fastening jacket. It depends on the child, of course, but there's no reason why a pullover Rainforest jacket wouldn't be perfect for a child (they love the front pocket and the jacket keeps them snug and warm). You may find it slightly tricky with the pullovers, and that's why we have our full zip-up version, which works just as well - the choice is yours.
Are Napapijri jackets a generous fit?
It depends. Some of the lighter, more fashionable styles sometimes play with volumes and therefore have a generous fit. Generally speaking, however, Napapijri's most iconic jackets are not meant to have a generous fit – they are designed to hold themselves against the form of the body.
Loose-fitting jackets can be less than optimal in colder conditions. If there is a large gap at the hem, wind will easily get up inside the coat, negating any insinuating properties. Also, as they are designed for an active lifestyle, less excess material is always better – it can get in the way when you're climbing or skiing, and catch the wind when it's blustery. That's both to ensure heat is retained in colder weather, but also because a smart silhouette always looks best.

If your jacket is purely for fashion, however, and won't be worn outside the city, there's no reason why you couldn't get a larger size than normal if you're going for a more laid-back look. The extra room inside is also useful if you're layering up, although our winter jackets themselves provide enough insulation for most conditions you're likely to encounter.
Napapijri – designed for outdoor style
You don't have to compromise between being active and staying stylish. With Napapijri, your jacket follows a classic Italian close fit, with insulation features straight from Nordic climates. We like our jackets to sit close to the body, so you should get one that's a good fit. It'll be flexible enough when you're in the hills but tasteful enough for turning up at city bars and clubs.
Now you know how to find the best fit, it's time to head over to our women's and men's jacket collections – perfection is waiting for you.