As festival season rolls around, it's time to start thinking about your wardrobe. Festivals bring the unique challenge of looking good as you battle muddy fields and tent pegs. They also provide an opportunity to get creative with your clothing, with items that you may not usually get the chance to wear. Aim for the sweet spot that combines versatile, functional clothes with a style that looks and feels great.
This guide will take a deep dive into the festival trends for summer, along with distinctive Napapijri advice on nailing the festival look. We'll explore what types of clothing work well and explore trends for summer, with plenty of festival outfit ideas. Read more to discover how to coordinate your festival fits, keeping you warm, dry, cool and fashionable.
What to wear for a festival
To choose what to wear for a festival, look for clothing that can deal with variable conditions. Combinations of lightweight shirts and tops with a water- resistant jacket will help you adapt to the weather. Boots or wellies complete the essential festival look and can handle muddy ground with ease.
Footwear
Whatever the festival, you'll be walking long distances on uneven ground. So, leave the heels at home and prioritise comfort for walking and dancing. Be prepared for mud - trainers are festival essentials, comfy, functional and stylish.
Layers
You need to travel light, so avoid chunky clothing and bulky coats. To be ready for changeable weather and cool temperatures after sunset, choose clothing in layers. Pack combinations that can be easily mixed and matched. A fleece or soft shell jacket for additional warmth, a water-resistant jacket for rain protection.
Wear simple items that are comfortable, cool and look good. Cut off denim shorts with a shirt or blouse is a classic festival look. Or pair a summer dress with your wellies. Oversized tops are functional and on trend. Avoid materials like suede or leather - your fabric needs to handle mud, rain, sweat and spillages.
The iconic Napapijri Rainforest Jacket is an ideal fusion of innovative materials and an eye for style. With the signature kangaroo pocket and a range of fresh colours, it's an essential item for your festival outfit. Plus, it's just one of our many windbreakers and jackets to help protect you against the element, all festival long.
Related: Finding the perfect fit for your Napapijri jacket
Accessories
Headwear essentials include bandanas or hats, sunglasses are a must-have for the sun and the vibes. Take a smaller bag to keep your valuables close by during the day. The Napapijri waist bag is slick and secure for your money and phone.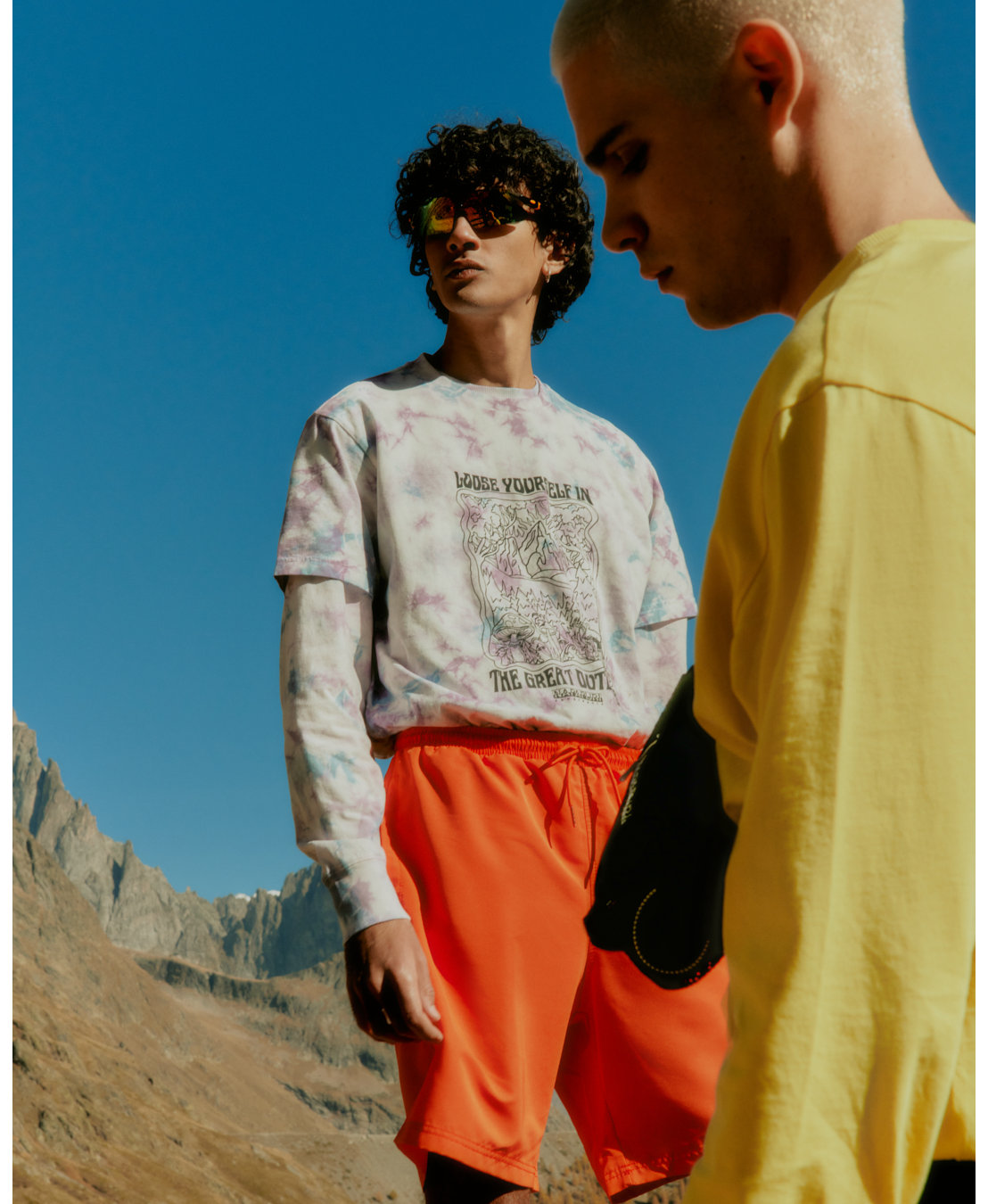 How to nail your festival outfit
Nailing your festival look starts with planning combinations. Start with your footwear and work your way up. Shorts or leggings, a lightweight vest with an oversized shirt or hoodie and a waterproof coat are your starting points. Throw in a dress or poncho for peak festival vibes.
Trainers - With bold colours and patterns, trainers are not just functional but can become a centrepiece of your whole festival outfit. Chunky hiking boots are another great choice if you don't want to risk your trainers getting muddy or wet.
Shorts - Mid-thigh or higher cut shorts paired with wellies create the ultimate feminine festival feel. Try the classic mid-length Women's Napapijri shorts. Guys can go for a longer leg but avoid baggy full length trousers which will soak up mud as you walk around. In colder weather, leggings keep you warm and maintain the contrast with your bulky boots.
Base layer - When the sun is shining and you're climbing onto someone's shoulders, a lightweight vest or crop top is ideal. For colour choice, match the vibe of the festival itself. Earthy tones or brighter colours for the dance tent. Try a fringed hem for true boho vibes.
Mid layers - Having an oversized shirt, hoodie or fleece at hand to throw on under cloud cover is essential. For the festival feel, a plaid shirt, zip up hoodie or neutral fleece can work well in combination with your other clothing. Tassels or mesh for additional style points.
Dress - For a classic cute festival outfit, combine a summer dress with your trainers or wellies. Anything goes here. A short dress with wellies works well, while a maxi dress with your boots poking their toes out is also a timeless combo. Look for floral or ethnic prints.
Windbreaker - Prepare for wet, cool or windy weather with the right jacket. Neutral colours are popular but brighter colours and bolder patterns help you stand out in the crowd. We've got a wide variety of windbreakers and other jackets perfect for any festival. From versatile modular fits able to adapt to changing weather to classic, rugged summer styles to resist the elements, you'll find the ideal style for the adventure. Keep an eye out for features like water-resistant materials, durable fabrics and adjustable hoods for ultimate functionality.
Accessories - Here is the opportunity to go wild with a statement hat, oversized sunglasses and layered necklaces.
Once you've sorted your clothing, grab a duffel bag to pack all your gear for the festival season.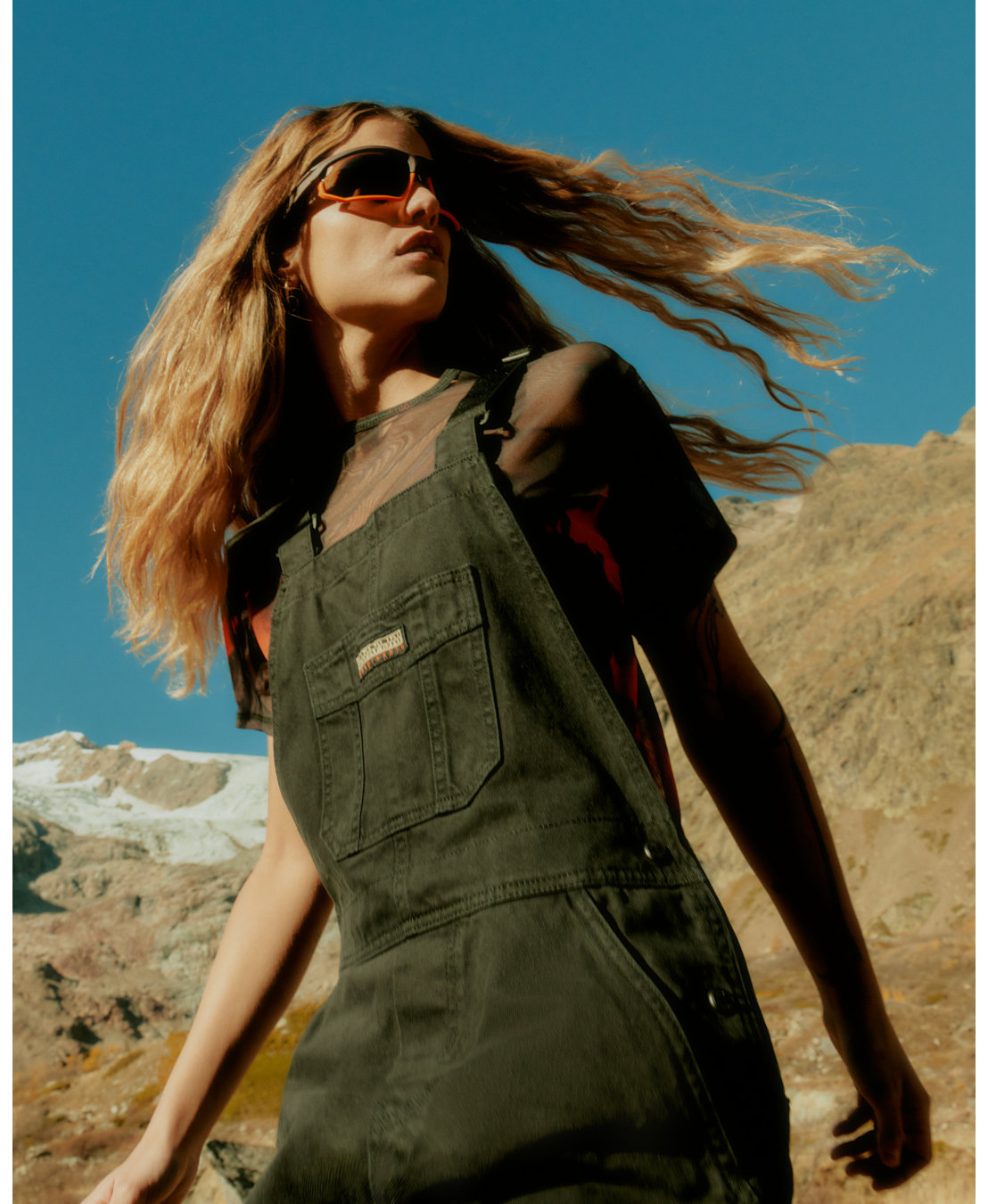 What to take to a festival
When deciding what to take to a festival, think through: camping gear, clothing, hygiene/medical, food and drink. Other categories depend on your preferences - are you going for a minimal approach or do you want to camp in style? This section will help you plan exactly what you need.
Festival essentials:
Ticket - Double check before you leave!

Money and bank cards

Clothing

Tent - Don't forget the tent pegs and a mallet to keep your shelter secure

Sleeping bag

Air bed or roll mat

Bag - Pack a duffel bag or backpack with all your gear and don't forget a small daypack to carry your essentials around the site

Medical - Take a basic first aid kit along with paracetamol and suncream

Toiletries - A minimum of toothbrush and toothpaste, wet wipes, dry shampoo and hand sanitizer

Food and water - A refillable water bottle is essential. If you intend to cook on site, you'll need a camping stove and equipment. Even if you intend to buy most of your food at the festival, you'll want snacks close at hand

Phone charger and battery pack

Towel - Microfibre towels take up less space and dry quickly
Other items that you should consider:
Bin bags - Not just for rubbish, but great for wet clothes

Camping chairs

Duct tape - For emergency repairs

Toilet roll
Avoid the urge to overpack, you'll increase the weight of your bag and take up space in your tent. At Napapijri, sustainability is part of our DNA, so when the party's over, respect the environment and bring all your stuff home with you.
Whether you end up covered in mud or basking in the sun, festival memories linger like no others. Napapijri has you covered for making many more of those memories.