What is Gorpcore?
Gorpcore fashion is a style based on outdoor hiking or climbing gear but worn in the urban environment. The "gorp" part of the name is a phrase popular in America, meaning "Good ol' Raisins and Peanuts", the staple snack of hikers for generations.
The whole point of the look is that it's incongruous with the surroundings. Outdoor wear is often big, padded, made for layering and brightly coloured, all of which are life-saving features in the mountains but a little more optional when you're walking your dog in the local park.
It has been suggested that Gorpcore had a false start before the pandemic, but the "not going out" thing made any -core pointless. Then, as soon as the doors started opening and the sunshine called us out to the parks, bars, workplaces and friends' places, on went the puffer jackets. Gorpcore was back. 
How to style Gorpcore
The Gorpcore look isn't too difficult to achieve – it's simply dressing in sport/hiking/survival garb. But it's not just a case of picking random cagoules and parkas off the shelf. Colour, shape, volume and layering all play their parts (and a logo or two doesn't harm the look).
The jacket
The signature garment is, of course, the jacket. It's the biggest, most visible piece and the one you can have the most fun with. First, if it's big, puffy and colourful, you're about 82% of the way to achieving the look – 83% if it's sunny. Hoods are definitely part of the look, and if it's in the up position, you're just showing off your Gorpcore mastery. If you can pull off orange or yellow, go for it, but a slightly more muted tone can still work, especially with a colourful hat or bag. Parkas come with complete Gorpcore credentials.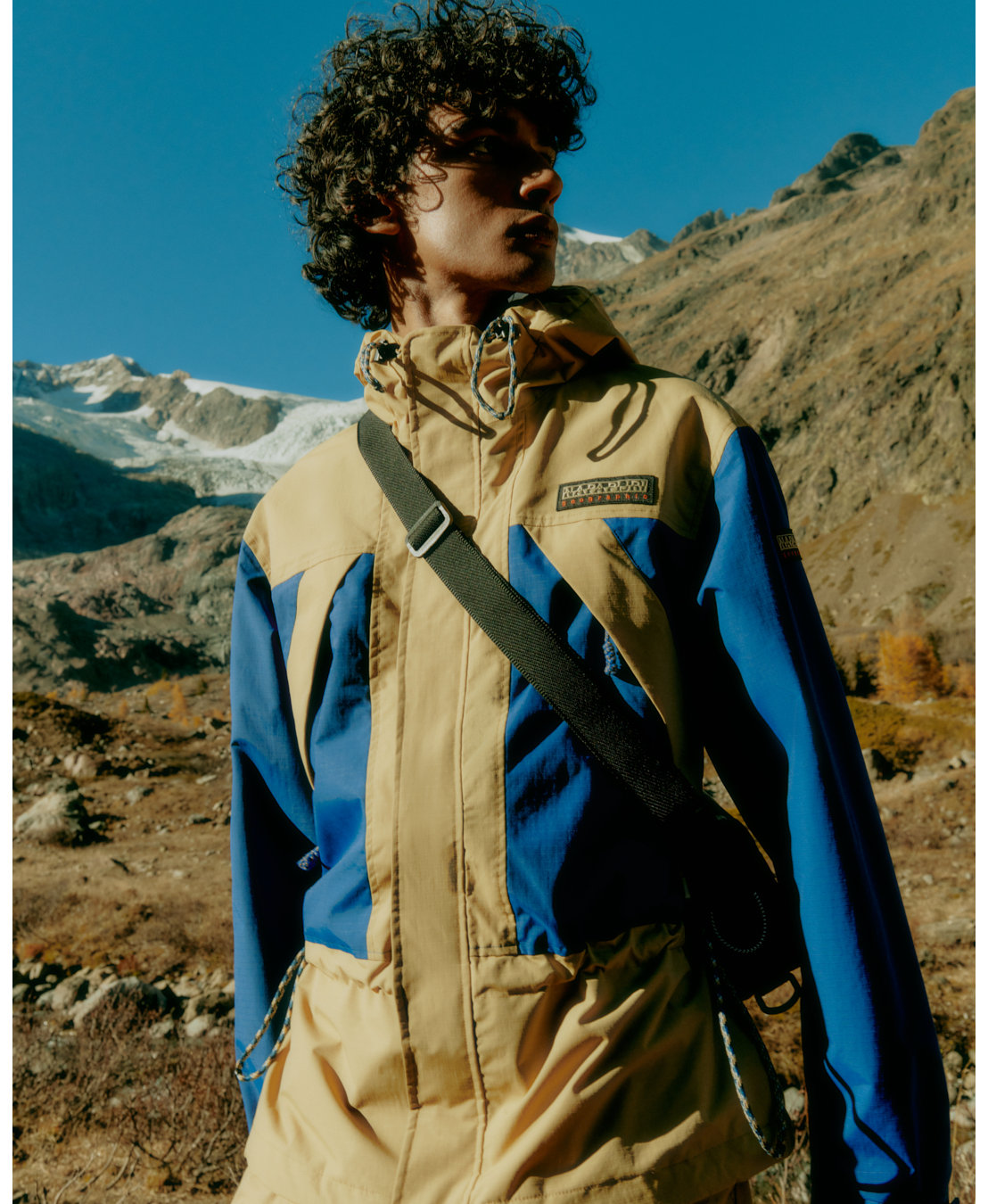 No sweat
Perhaps the weather's just a bit too hot for the full 3,000 metres. You're perfectly fine with a gilet or outer vest. Again, colour is great, but with your arms free, it's a perfect opportunity to wear a light fleece or T-shirt in a bright colour underneath a more subdued outer – remember the importance of layering.
Treading the trail
Footwear is the last essential to get the look. And you shouldn't need too many clues here – a pair of sturdy boots, hiking shoes, or walking sandals will keep your style footing secure. Trainers will do too, but keep them chunky and avoid light sneakers. There's a lot of volume going on in the legs and torso, and you don't want the look to fizzle out on contact with the pavement.
Gorpcessorise
Now you're into optional extras, and you can throw on a decent hat for some hiking cred. Any hat will do here, whether it's to shield you against cold or sun. It fits the bill. And a backpack might prove a fitting extra, but this is one area where an urban backpack is going to look better. Avoid large rucksacks or framed backpacks to visit the supermarket – this is a fashion, not mountaineering cosplay, and there's a way to get it so wrong with such a small detail.
Off the beaten path
So that's Gorpcore in summary. It's utilitarian and fun to wear and might even keep you warm and dry, and how many styles can make that bold claim? Our founding philosophy was to make crossover fashion that looks as good in the city as it does out in the open, and by any measure, we succeeded.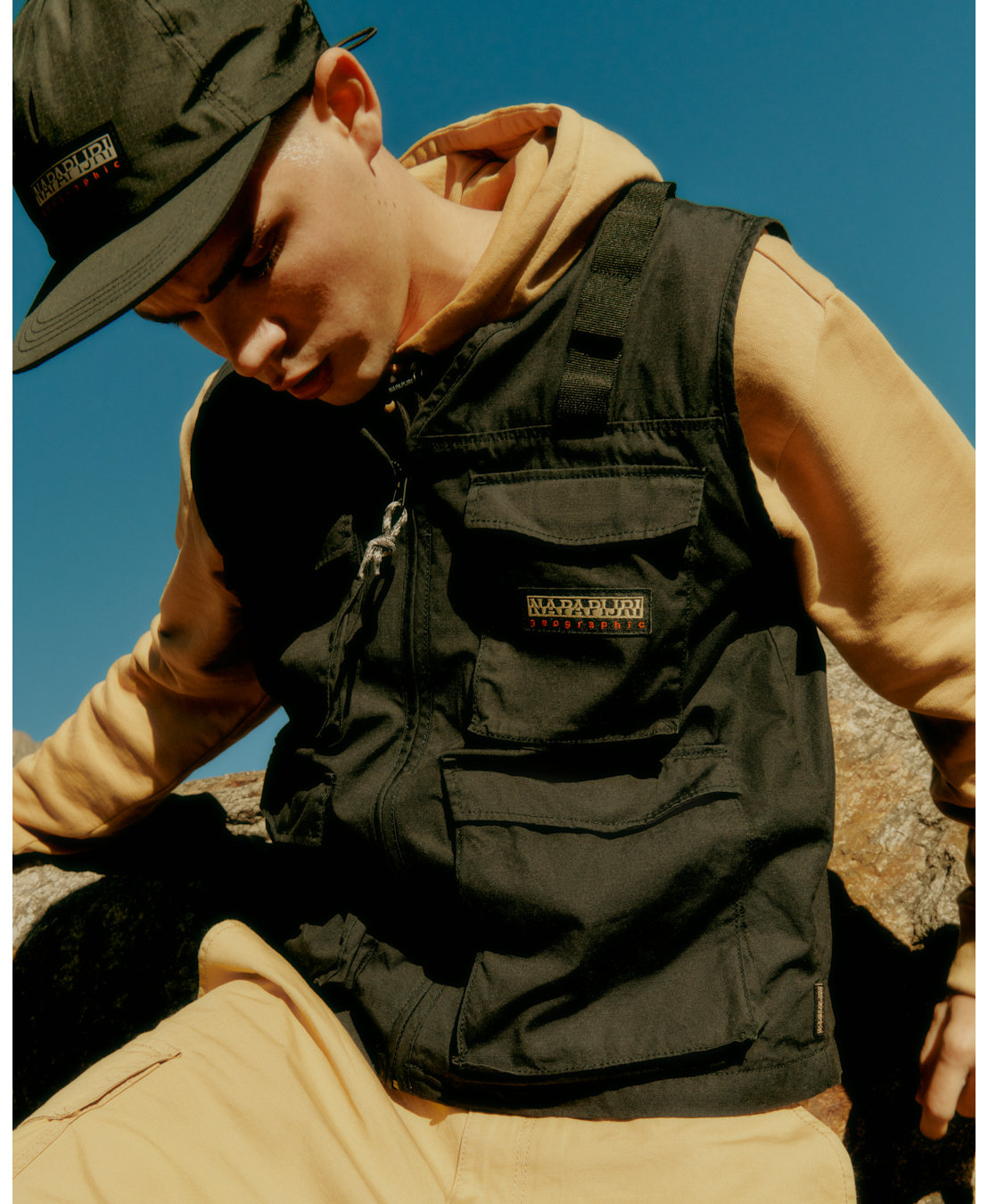 How does Gorpcore differ from urban utility?
Urban utility is a stylistic cousin of Gorpcore that draws a fashionable aesthetic from clothing that's designed primarily for practical purposes. While there's a bit of crossover between the looks, urban utility is lighter and has more of a human-shaped silhouette than puffy, loose-fitting Gorpcore.
In other words, urban utility isn't really about defeating the elements with clothing designed for the mountain trail or camping by a lakeside. There's no need for heavily insulated coats, multiple layers, or maximum flexibility and visibility. It's a look that's derived from the tradespeople and craftspeople who make the city tick, so think pockets, hard-wearing clothing, and room to express yourself. Women might simply wear a vest top and cargo pants, while men will probably opt for t-shirts, sweatshirts, and hoodies up top, with shorts or cargoes and some good boots down below. Urban fashion can also veer into the military look with camouflage or khaki pants, shirts, and caps.
If you lived through the 1990s or respect that look, you'll already have a grasp of the utility trend that swept the world because the modern interpretation is almost identical. It emerged at the tail end of grunge as a smarter alternative for a new age.
So while Gorpcore and urban utility fashion are everyday ways to repurpose outdoor, hard-working gear, the former is more of a statement as it's out of place in the city setting. Urban utility is more at home, darting from taxi to shop to bar to club while carrying off a good-to-go aesthetic – having somewhere to put your phone is a happy accident.
Both looks are easy to pull off when you know what you're looking for. Stick to brands you trust like Napapijri – this trend has caught up with our collection, and you can get it off the peg.