Napapijri jackets draw heavily on the spirit of adventure, particularly that of polar explorers of the late 19th and early 20th centuries – people like Amundsen and Scott. These trailblazers looked to indigenous peoples of the Tundra for inspiration when it came to clothing that would help them survive the extreme temperatures at the North and South of the globe, which can easily plunge to −20 °C in the summer.
Of course, Napapijri's jackets are not designed for survival hundreds of miles from civilisation. They're designed to be warm and stylish whether worn in the city or out in nature. The look might be a nod to the golden age of exploration, but the fabrication is all about wearability, style and sustainability in the 21st century.
So should you wear one on your skiing trip? Let's have a look at some FAQs on the subject.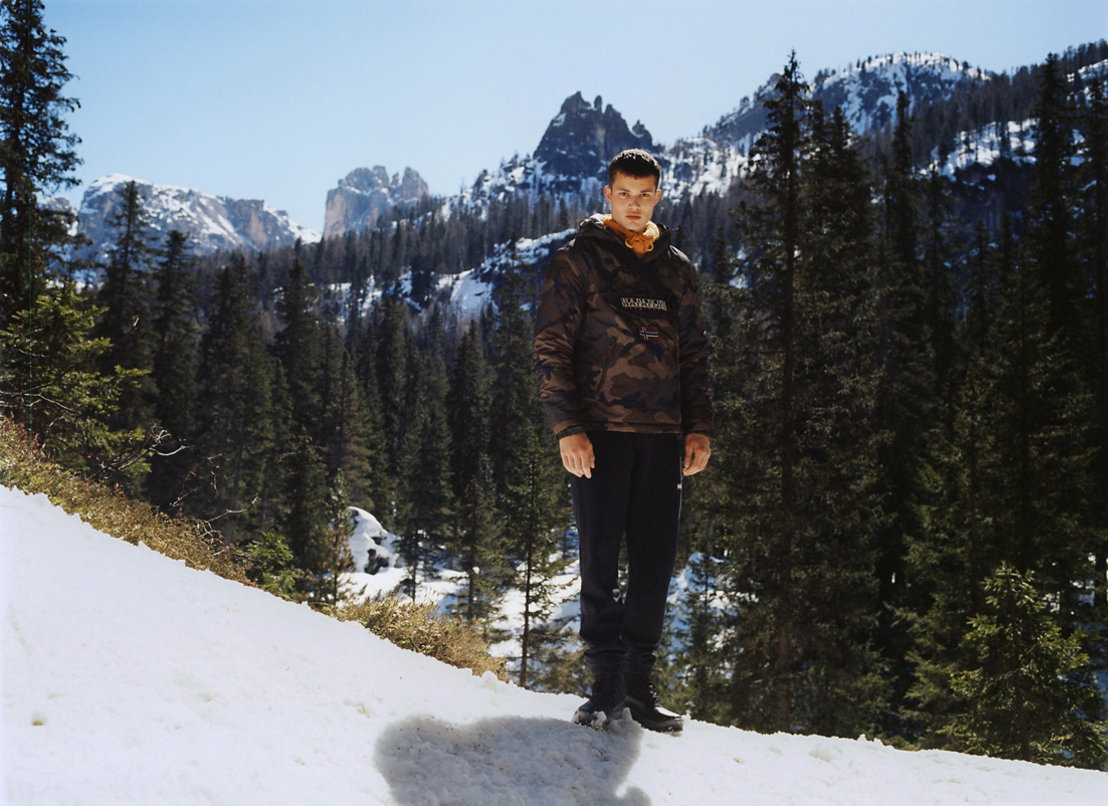 Are Napapijri jackets warm?
Napapijri makes a range of jackets for different seasons, so if you're looking for a warm jacket, choose a winter one. They come with Thermo-fibre™ padding, a highly efficient cruelty-free insulation layer that will retain body heat when you're out in cold conditions.
The classic Rainforest Winter Jacket is a pullover coat with a large front pocket and hood. It's available in many colours and patterns, and is a favourite for those who work or just spend a lot of time outdoors. People love the easy urban style and feel comfortable and confident wearing one.
While the winter jackets are great for when it's cold, some people prefer to go for a Rainforect Summer Jacket, for one of two reasons. First, they might prefer to layer up underneath so they can regulate their insulation as the conditions change. And second, they might not wear the jacket in the depths of winter, but just in late autumn or early spring, when it's chilly but isn't freezing. If you're active, a summer jacket will be more than enough.
Are Napapijri jackets good for skiing?
Napapijri jackets are warm, breathable and have plenty of pockets, so they can be worn during light recreational skiing. However, since they're water resistant rather than waterproof, prolonged and sustained exposure to heavy snowfall or ground snow could soak through. Waterproof outer layers or conventional ski jackets would help here.
One reason people take their Napapijri jackets on skiing holidays is not so much for the slopes, but more for travel to and from the ski resort, and for après-ski, when they're enjoying the resorts and their many attractions. Many skiers would opt for a coat with a zip-up front, as it's easiest to get on and off between bars, restaurants and the hotel, while still being perfectly appropriate attire for the skiing lifestyle and night-time temperature plunges.
Is Napapijri good for snow?
Napapijri winter jackets are warm and water resistant, so can comfortably get you through light snowfall while keeping warm and dry. However, since they are not waterproof jackets, they would not be appropriate for hardcore outdoor exploration in the wintry extremes.
Waterproofing is always a compromise and there's a distinct difference between water-resistant and waterproof. The more waterproof a material, the harder it is to keep sweat from making you wet from the inside – whatever the weather. That's why our jackets are water-resistant – they slow down the path of water and the coating helps water form beads rather than soak in. The net result is that you'll be protected from water unless it's sustained and heavy, but you'll always feel fresh and dry inside because your sweat will be allowed out.
So if you're looking for a coat to wear in light snow or rain, particularly when you're in the town or city when you need to look great and you won't be exposed to snow for long periods, we've got plenty of options. Puffer jackets have instant street style and will ensure you're warm in the winter months. They're smart and laid back but offer a shell of insulation for when you're on the street.
If you like a hooded anorak, our ever-popular Skidoo will get you from A to B when the snow's falling, with you and your clothes staying dry as you go. A Parka really covers you up, too, and its loose fit makes it perfect for wearing over your everyday clothes, whether they're for clubbing or the office.
Style with a warm edge: Napapijri jackets
Napapijri is primarily a fashion brand, although it's heavily inspired by the snowy mountains of Europe and the styles adopted by locals and visitors. We're leading the way when it comes to making fashion with a tiny footprint too, thanks to using recycled materials and making our clothes 100% recyclable. So wear them for leisure or for everyday, stay warm and help save the planet.