Your Napapijri jacket is specifically designed to take whatever nature throws at it. But as we all know, nature doesn't include detergents, fabric softeners, washing machines and other human-made elements that have become normal in the daily cleaning routine.
We want your jacket to last as long as possible so everyone can get more out of their clothing and minimise their environmental impact. We also use materials that can be washed at lower temperatures, for the same reason. So here are some pointers to help you keep your jacket looking and feeling as good as new for longer, wash after wash.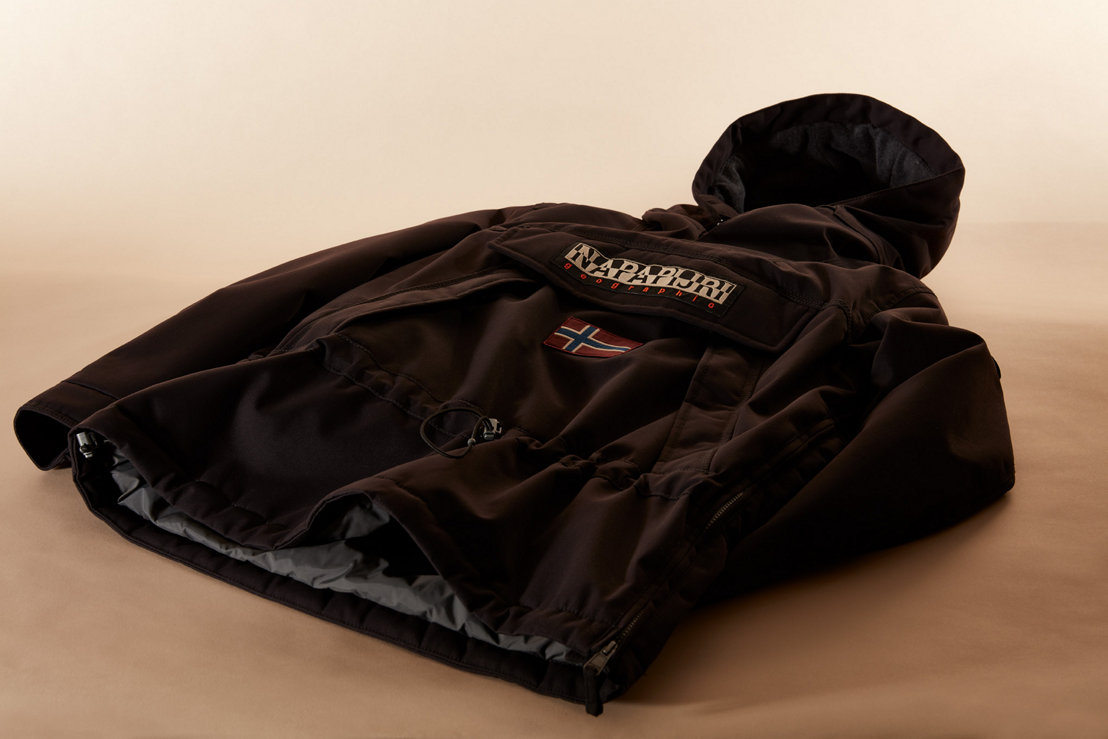 How to wash a Napapijri jacket
The cleaning instructions are on the label of your Napapijri jacket, so make sure you read them before you wash yours. Generally, it's fine to machine wash your jacket, and we recommend tumble drying only a low temperature. We do not recommend having your jacket dry cleaned.
As Napapijri jackets are made from modern recycled materials, some traditional washing techniques don't apply. Most of our water resistant garments should be machine washed at a water temperature of no more than 30 °C or 40 °C, however, and tumble dried at a medium temperature. When machine washing, make sure to wash the jacket inside out to prevent abrasive wear on the outer surface. Most importantly, don't wash your jacket unless you have to. Sure, they will need a wash after getting muddy, and every so often it will need refreshing. But think about your energy usage, and keep washing and drying to a minimum.
Can you tumble dry a Napapijri jacket?

Napapijri jackets are designed so they can be tumble dried. However, they should only be dried at a medium temperature setting, as high temperature tumble drying can damage the recycled fabric used. Lower temperatures also minimise your energy usage.
When you're out on your adventures, it's possible you'll get wet, and it's likely that you might only have an overnight stay at a hotel, hostel or camp site before you head off again the next morning. That's why it's important to have clothing that can be dried quickly, and the tumble drier is a great way to do it.
Even if the outer layer looks and feels dry after air drying, the insulation might still be damp, and that will affect its insulating properties. On high quality winter coats like our Skidoo, the insulation is synthetic Thermo-Fibre™. Although it dries much faster than an equivalent weight of natural down, it can still retain moisture, especially if it has been soaked through and has been left lying down, unventilated or in a bag. You can see more information about the Skiddo here.
A quick tumble dry at low temperature can blow away any last droplets of water, keeping your jacket at peak performance when you're next braving the elements. It's fine to use dryer balls, although softness isn't necessarily an issue with our coats and jackets. Just make sure you stay within the recommended temperature settings as indicated on the jacket's label.
If you can dry your jacket outdoors, or simply leave it airing in a relatively warm room, please do. Don't forget about your responsibilities when it comes to energy usage. Low temperature helps, but no temperature is even better. Have a look at the "carbon footprint" section below.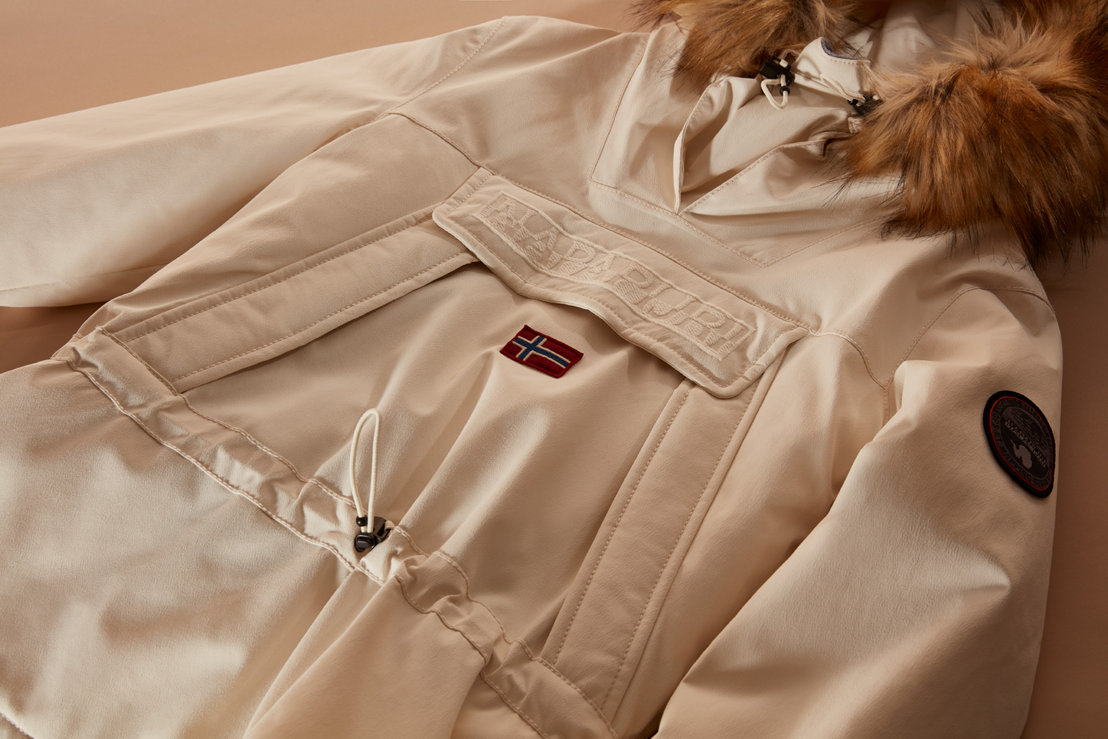 How to fold a Napapijri jacket
When not in use, it's best to hang your jacket rather than fold it, especially over long periods. When it's unavoidable, for example when packing your jacket in a suitcase, fold the arms over the front and fold the jacket top to bottom – do not scrunch it up.
Folding any garment for lengthy periods can cause lines in both the fabric and the colour, especially if it's compressed. If you do need to store your jacket folded up, keep the bends as loose as possible. You can do this by folding it around other garments.
Try and keep your jacket near to the top of piles of stored clothes, so that it does not get compressed – compression for lengthy periods can flatten any insulating padding, squeezing the air gaps and reducing its thermal effectiveness. Also, make sure your coat is free of mud or dirt, especially if you're storing it for a long time.
How to iron a Napapijri jacket
Napapijri jackets should only be ironed on your iron's lowest heat setting. That's one dot, or less than 110 °C. The materials used in our jackets' lining and outer materials can be damaged at higher temperatures, so make sure you follow the guidelines on the label.
Iron the jacket just as you would with any other jacket or top. If it has a zip fastener undo it and iron it flat, one part at a time, starting with the sides and back, and finishing with the arms. If it's a pullover design, such as our Rainforest Summer Print, fasten any pockets and iron it one panel at a time, moving it round after each section, and finishing with the arms.
In both cases, always make sure your iron's temperature does not exceed the guidelines given on the label.
Take care of your jacket for years of enjoyment
We hope you'll get many years of pleasure from wearing your Napapijri jacket, and making sure you wash it properly will help you to achieve that. As a general rule, try to avoid high temperatures when you wash, dry and iron your jacket, as exceeding the recommended temperatures can affect the colours and the makeup of the fabric. That can make your jacket age more quickly, or worse, damage it irreparably.
Minimising your carbon footprint
By washing your jacket conscientiously, you're playing your part in slowing down climate change. Water doesn't just appear in your taps – it needs pumping and treating, and that means energy usage. Heating cold water even to 30 °C requires energy, be it gas or electric, and until we have a 100% renewable national grid, that too means carbon in the atmosphere.
To educate customers and show our support, we've teamed up with Clevercare – an organization devoted to showing how we can use less energy in our clothes cleaning, and campaigning to the same end. Check out their website – it's full of useful tips to help you do your bit. And as you're saving the planet, you're also saving your pennies, as you'll be using much less energy.
Also, remember that if your jacket is from our Circular Series, register it when you buy it and you'll be able to return it to us when it reaches the end of its life. Not only will you get a voucher for money off your next Napapijri jacket; you'll also be doing your bit for a more sustainable planet.