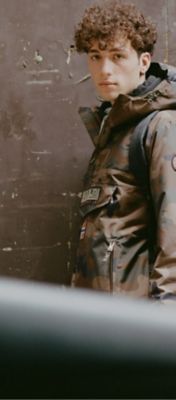 All about authenticity
BACK

TO SCHOOL
Today, back to school is more
than just a day, it's a journey.

A time for self-expression, for exploring
who we are, and who we want to be.
DID SOMEONE SAY ANORAK?
Celebrate creativity and self-expression with the iconic Rainforest jacket. From the classic version to the camo one, what you need to do is just choose your favourite.
THE BURGEE: AN EVER EVOLVING CLASSIC
Our signature hoodie reimagines the iconic Rainforest jacket design and puts comfort at its core. It comes in a variety of colours and features an adjustable hood and pocket flap for maximum wearability.
BIG STYLE FOR A BIG FUTURE
With school right around the corner, it's time for every teen's important moment, update the wardrobe with new exciting pieces.